Life Between the Levees: America's Riverboat Pilots by Melody Golding
Author:Melody Golding , Date: November 22, 2020 ,Views: 14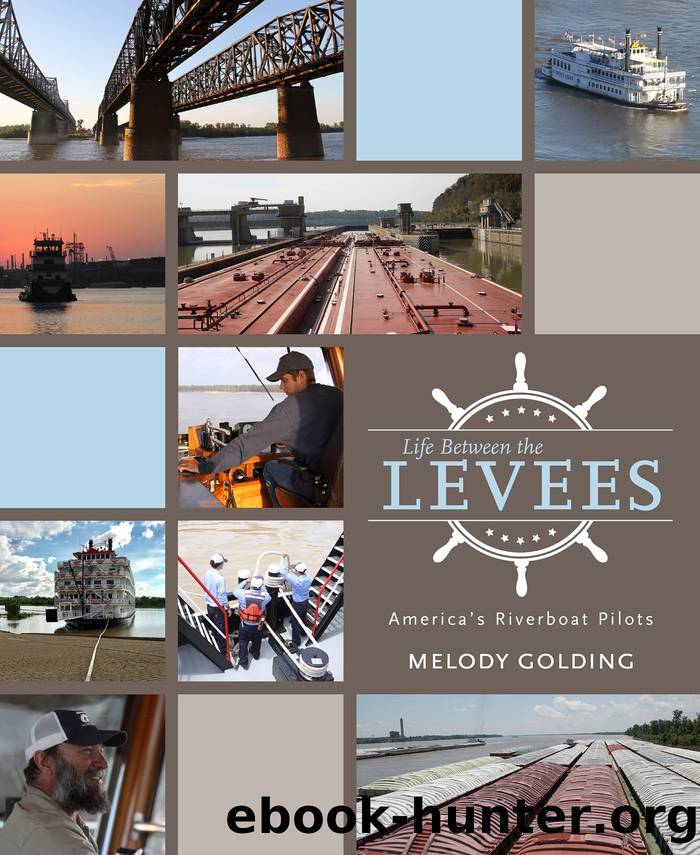 Author:Melody Golding
Language: eng
Format: epub
Publisher: University Press of Mississippi
Published: 2019-11-14T16:00:00+00:00



CHARLIE RITCHIE
My name is Charlie Ritchie. I started working summers when I was twelve years old, but I've been riding boats since I was two weeks old. My mother was on a boat with me two weeks before I was born and two weeks after. So I've been on the river, I tell people, virtually all my life. I've been doing this forever. My father is a mariner. I'm fifth generation. And my father and all his brothers were mariners. My father's name is John Baptist Ritchie Sr. And then my grandfather was a mariner. His dad was a mariner. The first generation is George Ritchie, who was in the book by Mark Twain, Life on the Mississippi. [He] was the first of our family that we know of on the river. And now there's a sixth generation, my daughter, my niece, and a couple of other cousins and so forth of those two girls that also work on the river.
I was actually running mate at sixteen years old. I went all the way to Pittsburgh running mate on the boat. My brother Larry was the captain. It was a great experience for me. It's what we do. It's what we've always done. Our family has always been out there, so it wasn't anything unusual to be on a boat at sixteen running mate. I had a cook ask me the other day when I first started, and I told her twelve, and she said that was impossible. And I said not if your daddy owns the company, so. It's hard work, and it's dangerous. I have the longest license on the river. I have 4,911 miles that I've drawn from memory. Every major river on the Mississippi River system. I've drawn the length of the Mississippi, the Ohio, the Tennessee, the Cumberland, the Illinois, the Kanawha, the Monongahela, and from memory. So, it's fairly extensive. Plus, I have license to run the Great Lakes. I have unlimited tonnage master's license and unlimited tonnage first-class pilot which is very unusual. I got those when I was very young. I got my original license at twenty-one. My master's license I got when I was twenty-four. I have been blessed my whole life.
I did it in a fairly short period of time. My original license, I only got fifty-two miles of license in 1984. I had been on several boats. Every time I would get off a boat, I happened to be in Natchez, Mississippi, and I'd look up, and there was the Mississippi Queen, and my dad was working on there. He had been on that and the Delta Queen. And so I stayed a night in a motel. Next morning, I'd come down and said "Hi" to Dad. The captain on there said, "You need to come to work here." I'm like, too many old people for me, and I wouldn't do it. The third time I was down there, I said, "Have those people call me." They called me, and I told them, I said, "I only got fifty-two miles of license.
Download


Copyright Disclaimer:
This site does not store any files on its server. We only index and link to content provided by other sites. Please contact the content providers to delete copyright contents if any and email us, we'll remove relevant links or contents immediately.