Lethal Intent: Aileen Wuornos, America's deadliest female serial killer by Sue Russell
Author:Sue Russell [Russell, Sue] , Date: January 14, 2021 ,Views: 23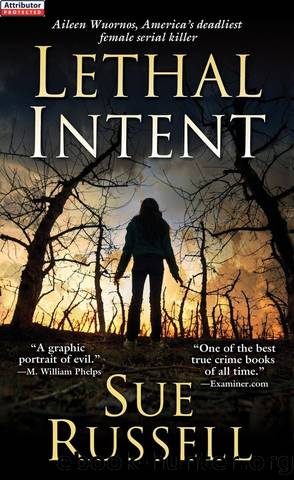 Author:Sue Russell [Russell, Sue]
Language: eng
Format: epub
Publisher: Kensington Publishing Corp.
Published: 2013-10-30T23:00:00+00:00



Lee became quite agitated when her property was inventoried at the jail. Her purse and tan suitcase had been taken from her, but what bothered her most of all seemed to be the safety of her Eagle key. Over and over, she asked that it be kept with her property, begging, 'Please don't lose that key, it's my life.'
Had no one been suspicious of her before, her blatant anxiety would have soon tipped them off. And while she was fingerprinted, it really got the better of her. Later, she complained to anyone who would listen that they'd taken more prints than was usual. In addition, they'd also taken a palm print. That really worried her.
Disappointingly, a search of her purse and suitcase drew a blank on stolen items, although she did have a couple of knives. The search yielded something, however: receipts from Jack's Mini-Warehouses on 1104 North Nova Road in Daytona Beach. Dated 3 and 19 December, they revealed that 'Cammie Greene' had possession of space C-1-G. Bernie Buscher passed the information straight over to Bruce Munster.
If those slips weren't enough to give her away, her rampant indiscretion would have sufficed.
In anticipation of Lee's arrival, Karen Collins, a Pasco County detective, had already gone undercover in the detention centre holding cell after being placed under fake arrest for aggravated battery. A seven-year veteran of undercover vice and narcotics work, she had the guts to spend the night in the holding cell with Lee and to get her chatting. Collins opened up the conversation by asking Lee what she was in for? Taking the bait, Lee said they'd had an old warrant for her for carrying a concealed firearm. Collins said she'd shot someone. Common ground. The communication door was open.
Lee talked about her guns and mentioned a friend accidentally shooting her with a .22 rifle. Later, she said she'd shot herself because she'd had a problem. Unable to see the wisdom of keeping her own counsel, Lee chatted on about getting a .45 calibre revolver through a man who'd known she was down and out and had given her $25 to go pawn it for $100. Lately, she'd been hitchhiking around town and 'doing men' for money. She tried to come off like a call girl who wouldn't touch anything for under $200, but later admitted she serviced people in biker bars for $20 or $25. She was worth more than $20, she said indignantly.
She spoke, too, of an incident that sounded like a variation on the 1986 arrest that led to the outstanding warrant. Only the story omitted to mention that she'd had twelve rounds of ammunition in her overnight bag. Instead it had grown to include an attempted rape on the part of her companion. She also said he'd stolen $150 from her.
Lee became very upset when she saw that Collins still had her shoelaces while hers had been taken from her.
More poignantly, she confided that she'd lost her lover and her home before Christmas. Since then, she'd been drinking heavily and living on the streets.
Download


Copyright Disclaimer:
This site does not store any files on its server. We only index and link to content provided by other sites. Please contact the content providers to delete copyright contents if any and email us, we'll remove relevant links or contents immediately.