Leftovers by Chloe Kendrick
Author:Chloe Kendrick [Kendrick, Chloe] , Date: October 19, 2020 ,Views: 10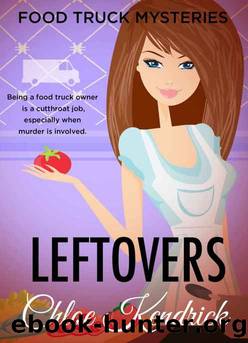 Author:Chloe Kendrick [Kendrick, Chloe]
Language: eng
Format: epub
Published: 2015-04-11T06:00:00+00:00



Chapter 8
When I got to the room, I was surprised to see it empty. I was immediately concerned that something had happened to Mariel, but the nurse assured me that Mariel was fine and had been released that morning. I drew a heavy sigh of release and made my way back down to the ER.
I walked into the curtained area where Land was. Like me, he'd had a gown on, but when I walked in, he was shirtless. I had seen glimpses of his abs before when he reached for something in the van or when he raised the hem to dry himself off, but I'd never gotten the full view before. Apparently security work required a great body.
His chest was well-muscled and chiseled. He had flat abs with clearly defined ridges in them and a slight trail of hair leading into his jeans. I admit—I stopped and stared.
"Hand me that shirt," he said, not even noticing my interest. "Thanks for getting it for me."
"No problem. I think the nurse thought that we would scare people if we went out the way we were."
He nodded. "Probably. Might have been fun." He gave me a grin, and I returned it. Land was usually so uptight. It was heart melting to see him relaxed and smiling. Maybe I needed to get him some more of whatever they'd given him.
We checked out with the nurse. I wasn't sure what to do since we'd caught a ride from an ambulance to the hospital. I got out my phone and called for a cab. It was probably better to have a little more time to feel more like myself before driving.
The cab dropped us off at the bank. I checked out the car thoroughly before getting in. I wasn't sure what a bomb looked like, but I checked under the hood and under the body. The shooters had not touched my car, though the bank was boarded up. Most of the glass had been swept up, but I doubted that the bank branch would be open for business in the near future.
Land slid into the passenger's seat, and I knew I was good enough to drive. He fell asleep before we got out of the parking lot. Since he was asleep and wouldn't notice—or care, I decided to swing by Mariel's house. I wanted to get that letter from her, the sooner the better. I had a hunch that Linda had tried to convey a message to her with that odd last letter.
We drove to the house and I pulled up in front, parking on the street. The house looked cozy from my vantage point with candles flickering inside. I almost hated to rouse her, but given the afternoon I'd had, I felt it was in my best interest to get this taken care of quickly.
I walked up on the porch and realized that the flames were not coming from candles. Something was on fire inside the house. The smell of burning paper and fabric was unmistakable.
Download


Copyright Disclaimer:
This site does not store any files on its server. We only index and link to content provided by other sites. Please contact the content providers to delete copyright contents if any and email us, we'll remove relevant links or contents immediately.