LeBron, Inc.: The Making of a Billion-Dollar Athlete by Brian Windhorst
Author:Brian Windhorst [Windhorst, Brian] , Date: June 12, 2021 ,Views: 80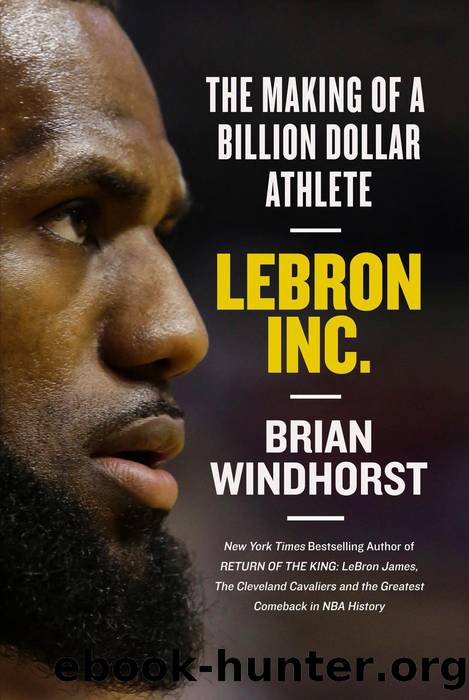 Author:Brian Windhorst [Windhorst, Brian]
Language: eng
Format: epub
ISBN: 9781538730874
Amazon: 1538730871
Published: 2019-04-09T00:00:00+00:00



Chapter 8
Summer Camp for Billionaires
The cottages that line Old Dollar Road in Sun Valley, Idaho, are both quaint and luxurious, their decks overlooking the mountains of Sawtooth National Forest, a lake stocked with paddle boats, or the fairways of the Robert Trent Jones–designed golf course. They rent for up to $3,500 per night.
During the second week of July, when summer is in full bloom in central Idaho, the private jets start arriving by the hundreds at Friedman Memorial Airport. Flowers line the back patio at the Grill at Knob Hill as plates of perfectly cooked filet mignon and fresh trout pour out of the kitchen every evening. Nondisclosure agreements are in place, so no one will talk about how bad the karaoke is on the roped-off second floor of Whiskey Jacques'. Luxury SUVs with tinted glass line Highway 75.
Since 1983, the Allen & Company media conference has developed into the so-called "summer camp for billionaires," a four-day invitation-only event that has become a place for brainstorming, deal making, and elbow rubbing for media moguls. Legend has it the AOL and Time Warner merger was hatched in Sun Valley. Jeff Bezos, the founder of Amazon, started talks to buy the Washington Post from the Graham family there. And many more.
At the conference in 2009 the usual faces were in attendance: Bill Gates, Warren Buffett, Mark Zuckerberg, Sumner Redstone, and so on. But a new face stood out among the crowd, someone none of the moguls had ever expected to see at this event: LeBron James, who was coming to attend panels and exclusive Q&As and learn what it's like to be a media executive.
Several years earlier Maverick Carter caught a ride on one of Cavs owner Dan Gilbert's jets on a flight from New York to Cleveland ahead of the opening game of the season. Also on the jet was Steve Greenberg, one of Allen & Company's executives. Allen & Company had assisted Gilbert in his purchase of the Cavs in 2005, and Gilbert was a valued client. When they were introduced, Carter asked Greenberg how he and LeBron could get an invitation to attend the conference. It stunned Greenberg that Carter had ever even heard of the gathering. It had been a struggle at times for Carter to get credibility as an agent as he fought the perception that he was an ancillary hanger-on in LeBron's universe. Selling himself as someone interested in getting into the media business was a taller order.
Carter did it an inch at a time, making it his business to do research and become well versed so that when he had opportunities, like he did with Greenberg, he could create and extend relationships. Gilbert, who was a regular in Sun Valley every July, had encouraged LeBron to attend the conference in the past, but LeBron's schedule with Team USA made it hard. Between 2006 and 2008, LeBron had committed a significant portion of every summer to the national team. But in 2009 there was a hole in the schedule.
Download


Copyright Disclaimer:
This site does not store any files on its server. We only index and link to content provided by other sites. Please contact the content providers to delete copyright contents if any and email us, we'll remove relevant links or contents immediately.