Killer Girlfriend: The Jodi Arias Story by Brian Skoloff|| Josh Hoffner
Author:Brian Skoloff|| Josh Hoffner , Date: April 8, 2021 ,Views: 26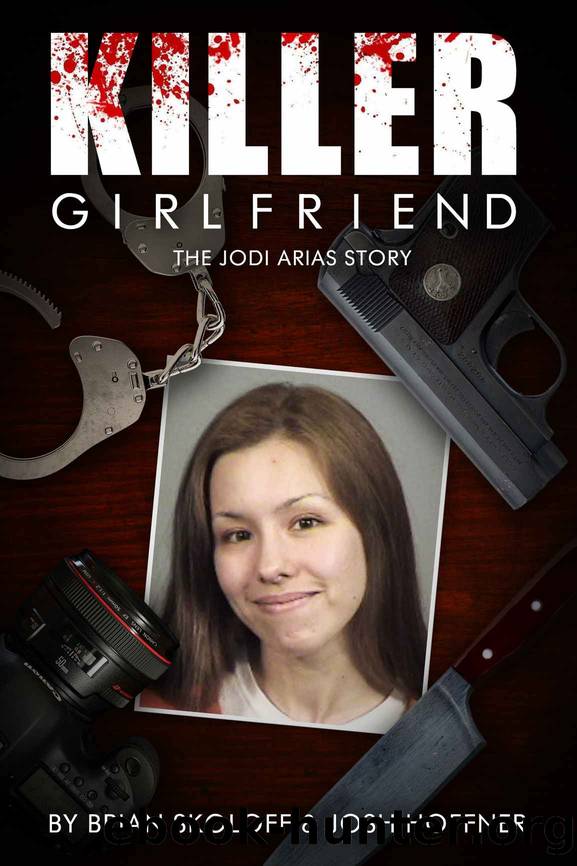 Author:Brian Skoloff|| Josh Hoffner
Language: eng
Format: mobi
Tags: TRUE CRIME/Murder/General
Publisher: Waterfront Digital Press
Published: 2013-05-03T16:00:00+00:00



Chapter 13
"I Don't Even Hurt Spiders"
"I think you're not grasping the reality of the situation." —Detective Rachel Blaney of the Siskiyou County Sheriff's Department
The date was July 15, 2008. It was the culmination of the most tumultuous period of Jodi's life.
In the span of 45 days, she had killed her lover in gruesome fashion, skipped town, hooked up with a new guy, mourned the loss of Alexander, even sent his family condolence cards.
Now she was in a nondescript interrogation room in Yreka. Most people are nervous in this situation, rattled by the mere sight of handcuffs on their wrists, fearful about their life being shattered once the authorities figure out what they did.
But Jodi seemed to have different coping mechanisms. She tried small talk with a female officer, asking where she was from Arizona. Then she complained about the temperature in the room. It's too cold, she said. She wondered where her purse was.
Here she was, locked up for what could be an eternity, and Jodi begged Flores for a sweater and inquired about her handbag.
"Any way you can turn the heat up in here or like, do you have a sweater I can borrow or something?" she asked Flores.
"I don't have any sweaters," he shot back.
They had a few back-and-forths that were fairly routine for police interrogations, and then Flores laid down the gauntlet.
"Everybody is saying, I don't understand what happened to Travis. I don't know who killed him. But you need to look at Jodi. And sometimes the simplest answers are the correct ones. And that's one of the reasons I started looking at you a little bit closer and over the last month or so I've gotten into Travis' lives, talked to all his friends, his family. I got a really good understanding of who he is now. And I got a very good understanding of your relationship with him. And I'm just putting two and two together … and it kind of matches."
Whatever Jodi had told herself in the month since Alexander's death, it surely set in at this time that she was in trouble.
It wasn't the kind of interrogation you see on a TV drama where a defendant is standoffish, gives quick, one-word answers and demands for a lawyer to be present.
Jodi rambled on in long answers as detectives tried to sort out the truth. Jodi talked at length about her relationship with Travis, their beliefs in the Mormon faith, his desire to meet a nice Mormon girl, and her supposed adherence to the Ten Commandments. She tried to make sense of her relationship with Travis for Flores.
But what Flores really needed and wanted was a confession. It is one of the building blocks of a strong case, as important as finding the murder weapon, a strong motive, and physical evidence connecting the suspect to the crime. Police had all the physical evidence they needed by this point, and seemed to have motive figured out: jealousy. The murder weapon was a mystery, although the break-in at her grandparents' house provided ample circumstantial evidence.
Download


Copyright Disclaimer:
This site does not store any files on its server. We only index and link to content provided by other sites. Please contact the content providers to delete copyright contents if any and email us, we'll remove relevant links or contents immediately.