Keys to the Realm by Neha Yazmin
Author:Neha Yazmin , Date: August 4, 2021 ,Views: 41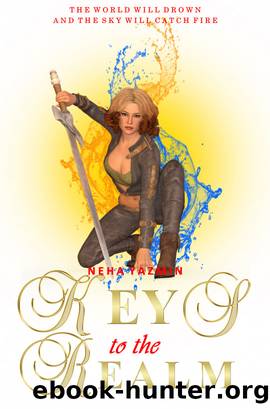 Author:Neha Yazmin
Language: eng
Format: epub
Tags: mermaid, high fantasy, royalty romance, epic royalty fantasy
Publisher: Neha Yazmin



That night, Malin and Rudro slept with the rest of the crew in the cramped room at the bow end of the ship. Evan had put her next to his cousin, but the girl had fallen asleep long ago. Malin had helped row the boat and her body was aching in a familiar way, forcing sleep away.
Surprisingly, Rudro hadn't said anything to her about using her real name. The only thing he mentioned when they'd spoken today was that Roshdan was a far more conservative Island than Adgar when it came to courtships.
"Which will serve you well," he'd said in conclusion. "They don't approve of... physical contact before marriage, so the distance you and Evan will keep between the two of you won't raise any questions."
It seemed like he was telling her to... stay away from Evan as much as she could. Or not to get any closer to him. That didn't sit well with her and she'd walked away from her former teacher without responding. She constantly found herself being drawn to Evan; she wouldn't be able to keep her distance if she tried.
Like now, when she saw him rise to his feet and leave the cabin, Malin had to follow. Tonight, he climbed up to the platform above the room she'd just left.
"You're here tonight," she commented as she joined him.
"I like to look ahead to where I'm going," he explained. "Rather than what I've left behind."
"Spoken like someone who hasn't left anything behind in Adgar." Malin had left everything there. She hugged her arms around herself; it was very cold.
"Yes," Evan murmured. "Despite what I thought when I rode out of the Palace gates..." Meaning: Yesterday morning, he thought he was leaving her behind in Adgar.
Her face felt a little warmer now.
"You were looking back last night," she reminded him.
"That's because you were over there," he told her. "I wanted to be nearby." He shrugged.
She didn't feel so cold anymore. "Rudro was saying that your people are very conservative with regards courtships," she whispered. "That the crew probably expects us to keep our distance..."
"And for you to be coy..." Evan grinned.
"And for you to admire me from afar..."
"And for you to blush every time I walk by..."
"Yes, that sort of thing." Malin shrugged. "Is that true?"
Evan nodded. "Adultery is strictly forbidden; even Kings can't take mistresses like they do in other parts of the world.
"The Royal Family can get away with some things, I suppose, but everyone is encouraged to be faithful and respect the sanctity of marriage. If you... like someone, you have to maintain boundaries."
"So, a lot of lovers in Roshdan sneak around?" Malin asked with a chuckle.
He laughed. "Yes. But only for the innocent things. The... less innocent things come after marriage."
"Innocent things like...?"
Evan swallowed. "Flirting. Holding hands. Kissing—"
"They don't seem very innocent to me," she scoffed.
She remembered squeezing his hand tighter and tighter yesterday in hopes that it would steady her trembling insides. Trembling because she was touching him. It hadn't worked. What would happen if they kissed? Don't think about that!
"No, I suppose not," he agreed.
Download


Copyright Disclaimer:
This site does not store any files on its server. We only index and link to content provided by other sites. Please contact the content providers to delete copyright contents if any and email us, we'll remove relevant links or contents immediately.