Jean Bedford [Anna Southwood Mystery 01] Worse than Death by Jean Bedford
Author:Jean Bedford [Bedford, Jean] , Date: January 14, 2022 ,Views: 83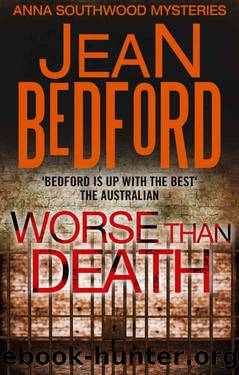 Author:Jean Bedford [Bedford, Jean]
Language: eng
Format: epub
Publisher: Endeavour Press
Published: 2015-12-03T00:00:00+00:00



Chapter 8
An hour later I had made a list of loose ends and I was sitting staring into space while Graham paced the room, muttering his lines, addressing them meaningfully to the coffee table and chairs. I was just about to call to him when the phone rang.
"Anna? It's Paul Whitehouse here."
"Paul! Hello." I was surprised. "What can I do for you?"
"You can stop interfering in my client's affairs, for a start." His voice was tight with anger. I was immediately angry myself — the redhead's proverbially short fuse.
"I don't know what you're talking about. We've been hired to investigate Beth's disappearance. Your client is an obvious place to start."
He gave a short laugh. "Hired? Who by?"
"Rex Channing." It came out before I had time to think.
"Shit." There was a brief silence. "You must be joking."
"No." I was on the defensive. "He's got a perfect right to know what's happened to his daughter…"
"He sure has. If he doesn't already. But why would he hire you?" His tone was thoughtful rather than insulting. He went on: "He's playing you for a patsy, Anna. He's got half the bent cops in New South Wales in his pocket, why would he need your services? Ask yourself that."
"Well, then, why? You tell me."
"Perhaps he just wants to make it look as if he's anxious about Beth. He could be hoping you'll fuck up, muddy the tracks a bit."
"Thanks a lot. Maybe he genuinely wants someone who's… disinterested."
"Could be." He was clearly unconvinced. "Anyway I certainly can't talk to you about it now. We're on different sides. Just keep away from my client, that's all."
I was stung. "Well, she seems to have told Graham a lot more than you've got out of her. We might even be able to help you…"
"Not if you're working for Rex. My advice is to drop it, Anna. This isn't a novel — these are real people with real lives getting messed up. You could be one of them, playing games with arseholes like Rex Channing." He rang off.
I stared at the phone and then at Graham's concerned look. "Paul Whitehouse," I said. "He hung up on me. The arrogant shit."
I made coffee and took it out with me into the garden where I sat and stared bleakly over the choppy bay. I wondered if Paul was right — I'd certainly been out of my depth the last few days. I examined my conscience, as the nuns had often told us to do. No, I was serious. I did want to find out what had happened to Beth Channing and I was prepared for wherever that might lead, I thought. I lit a cigarette and tried to bring my mind back to the details of the Channing case. I was just about to go in to talk to Graham when Lorna came bursting through the back door.
"Anna! You're safe!" I stood up and we gave each other a big hug.
"Shit Lorna, I'm sorry," I said. "They made you drop the story…"
"Oh, that's okay," she said cheerfully.
Download


Copyright Disclaimer:
This site does not store any files on its server. We only index and link to content provided by other sites. Please contact the content providers to delete copyright contents if any and email us, we'll remove relevant links or contents immediately.