Introduction to Bioethics by Bryant John A.; Baggott la Velle Linda; Searle John F. & Linda la Velle
Author:Bryant, John A.; Baggott la Velle, Linda; Searle, John F. & Linda la Velle , Date: March 6, 2020 ,Views: 241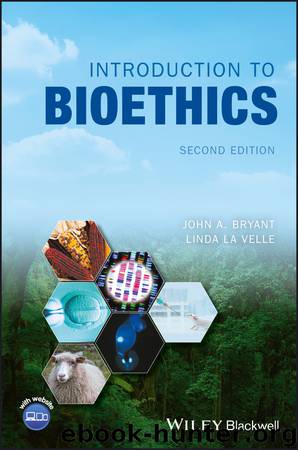 Author:Bryant, John A.; Baggott la Velle, Linda; Searle, John F. & Linda la Velle
Language: eng
Format: epub
Publisher: John Wiley & Sons, Incorporated
Published: 2018-05-21T00:00:00+00:00



8.6 The Debate Continues: Will the Law Ever Be Changed?
Here we are focussing on the situation in Britain but non‐British readers will readily recognise parallels in their own countries. Over the last 40 years, there have been several attempts in Britain to make assisted dying lawful. In some instances bills have been introduced into Parliament. Thus in 2004, Parliament debated and rejected Lord Joffe's bill on assisted dying for the terminally ill. A similar bill had been debated in 1976 and the House of Lords published a report on the subject in 1994. More recent attempts to change the law are discussed below.
Since the beginning of the 21st century, there have been several cases before the courts in which terminally ill patients have sought the right to have their lives ended and/or to exempt from prosecution anyone who assisted in the patient's suicide. One example was Diane Pretty who, like Reginald Crew (discussed earlier), had motor neurone disease. Diane Pretty was 43 when, in 2002, she requested the courts in England to allow her husband to assist her to commit suicide. This request was refused; it was refused again in an appeal to the Law Lords in England and again in the ECHR. The European Court ruled that by refusing to grant leave for her to be helped to commit suicide, the English courts were not violating her human rights. She subsequently died in a hospice later in the same year. The journalist Debbie Purdy was another who asked for such a ruling from the courts. She suffered from primary progressive multiple sclerosis (MS) and gradually became more and more disabled. Her case was heard at the High Court of Justice in 2008; her argument was that lack of clarity about how the Director of Public Prosecutions would proceed, were she to end her life by assisted suicide, was an infringement of her human rights. On that occasion, her case was rejected but nevertheless, she continued to conduct a vociferous campaign, supported by some elements of the media and in 2009, she obtained a ruling in the House of Lords that the Director of Publications had to make explicit recommendations in relation to possible prosecutions in cases of assisted suicide.20
Altogether, well over 300 Britons have so far (as of mid‐2016, the last date for which data are available) have taken advantage of the legal status of assisted suicide in Switzerland (the majority at the Dignitas clinic in Zurich). These have included, in 2006, Dr Anne Turner, from Bath, who had a progressive and incurable degenerative disease called supranuclear palsy. She had attempted suicide before going to Dignitas and it was only this attempt that led her family members to agree to help her. A particular feature of this case was that Dr Turner invited the BBC to send a TV crew with her – which they did, thus creating a lot of publicity for the Dignitas clinic and raising awareness of the current state of the law (which, two years later, Debbie Purdy – see above– was able to build on).
Download


Copyright Disclaimer:
This site does not store any files on its server. We only index and link to content provided by other sites. Please contact the content providers to delete copyright contents if any and email us, we'll remove relevant links or contents immediately.