Her Personal Demons (The Seven Sinners of Hell's Kingdom Book 1) by Ginna Moran
Author:Ginna Moran [Moran, Ginna] , Date: September 22, 2021 ,Views: 54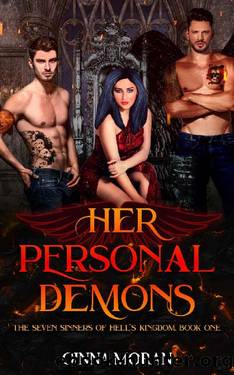 Author:Ginna Moran [Moran, Ginna]
Language: eng
Format: epub
Publisher: Sunny Palms Press
Published: 2020-10-15T16:00:00+00:00



Chapter 13
Saving Grace
RAVEN
"RAVEN, FIGHT HIM!" Kase hollers as he snarls and charges toward me in his hellish form.
My mind is clouded with fear from being left at the mercy of Micah. I knew what the plan was. I knew that things would get scary. But I can't help wondering how far Kase and Dante would've let things go if Micah hadn't intervened. Our ideas of what's fucked up are obviously nowhere near aligned.
I squeeze my eyes shut, my body refusing to do anything as Micah and Kase rush at each other with me in the middle. I could very well get torn apart in a battle of who will leave with me.
A cool arm hooks around my waist, dragging me from the ground. Roaring, Kase yells for Dante to grab me. My hair and torn dress whip in the freezing wind, and I force my eyes to open despite my burning tears.
Micah dangles me in one muscular arm, flying higher and higher into the air. My stomach twists with fear. I've never even flown on a plane before, and this is far more terrifying than I could ever imagine. If Micah drops me, I'm dead.
But I might be dead anyways.
He was supposed to intervene and save me from a trip to Hell, and in doing so, prove he was willing to endanger the greater good on my behalf. This whole fucked up plan was to get under his skin and get him to change his course enough to fall from the grace of the Higher Power, and not for him to kidnap and fly away with me.
"Micah! Let my pretty soul go or I'll tear off your damn wings myself!" Dante's deep voice reverberates through my body as he soars above us, his expansive black wings shadowing me from the sun. "She's been marked by Lucian. You can't change that."
Micah tightens his hold on me and drops a few dozen feet. My stomach feels as if it flies in my throat, and I open and close my mouth in a scream that doesn't come. The world spins and flips and drops, my mind unable to keep up with the aerial acrobatics Micah performs to avoid Dante. I feel so utterly helpless at his mercy, and I can't stand it.
Dante growls from above us and nose dives, falling like a speeding missile on course to detonate. Micah swings me up and against his chest, giving me no choice but to cling onto him if I don't want to plummet who knows how far—thousands of feet at least. The air around me stings my skin from the icy cold, and it hurts to breathe normally.
"Don't let go of me, heathen. I'm not going to hurt you, but your soul keeper will. He doesn't have any regard for your life and eternity like I do." Micah's voice drifts through my mind, igniting a strange wave of calming relief through me.
"Raven! Fight him! I'll catch you," Dante yells, darting past us as Micah dodges out of the way.
Download


Copyright Disclaimer:
This site does not store any files on its server. We only index and link to content provided by other sites. Please contact the content providers to delete copyright contents if any and email us, we'll remove relevant links or contents immediately.