Heavy Petting: Boys of the Bayou Gone Wild by Nicholas Erin
Author:Nicholas, Erin , Date: November 26, 2021 ,Views: 55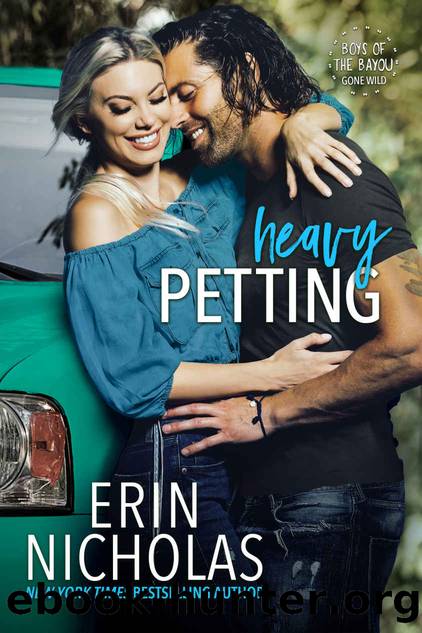 Author:Nicholas, Erin
Language: eng
Format: epub
Publisher: EN Fiction, Inc.
Published: 2021-05-24T16:00:00+00:00



13
Jordan had agreed to take the job after only ten minutes of holding Slothcrates. It was amazing that she would get to do this every single day. That was even before she met the lemurs.
She and Charlie, and the rest of the Boys of the Bayou Gone Wild, which included everyone from Griffin and Tori as the veterinarians to the owners of Boys of the Bayou—Sawyer, Josh, Owen, Maddie, and Bennett—would discuss details over the next several days, but Jordan already had some pretty great ideas about what she'd like to do with the position.
Kids and animals were a natural combination and Charlie already had the kids doing little "tours" of the petting zoo with maps and educational materials that took them through the animal kingdom from the local area in Louisiana to Peru where alpacas originated and all the way to Madagascar with the lemurs. She also had visions of having the kids connect virtually once they got home to share about the animals in their own backyards.
There was all kinds of potential—they just hadn't had time, or the staff, to implement much, and Jordan was the perfect person to do it. She not only had the background in teaching, but the background in science and biology specifically.
As she walked down the fence line of the alpaca pasture she found herself humming.
Just two days ago she'd woken up in the penthouse suite in a Vegas casino hotel, preparing to join Jason on a huge stage in front of a crowd of country music fans.
Now she was on her way to get to know the alpacas better.
She was going to be doing a presentation to a bunch of preschool kids tomorrow and she wanted to get the animals used to having her around so that she could talk to the kids with the animals nearby.
There were actually three pens. One where they kept the male alpacas and one for the females—the boys were a lot more mellow when the girls weren't distracting them—and one they used for more up close and personal interactions with humans and a couple of animals at a time.
Right now, Regan Reynolds, the physical therapist from over in Bad, was there working with a patient.
"Hey, Regan," Jordan called as she got closer.
Regan looked over and raised a hand. "Hi, Jordan." She looked down at her patient. "This is Carter."
Carter gave Jordan a big smile. "Hi."
"Hi, Carter. Can I come in for a second?"
"Sure." Carter looked up at Regan. "Okay?"
"Definitely."
Jordan opened the pen and stepped inside, closing the gate behind her. She made her way to where Carter was sitting in his wheelchair on a patch of dirt that was flatter than the rest of the pasture. She guessed they'd cleared the area specifically for wheelchairs. "What are you guys up to?"
"I'm doing my therapy with llamas!" Carter told her.
He looked like he was about six or seven.
"Actually, they're alpacas," Jordan said. "Do you know the difference?"
He shook his head.
Jordan reached her hand out to Alpacasso, the
Download


Copyright Disclaimer:
This site does not store any files on its server. We only index and link to content provided by other sites. Please contact the content providers to delete copyright contents if any and email us, we'll remove relevant links or contents immediately.