Green Chemistry in Agriculture and Food Production by unknow
Author:unknow , Date: March 19, 2023 ,Views: 33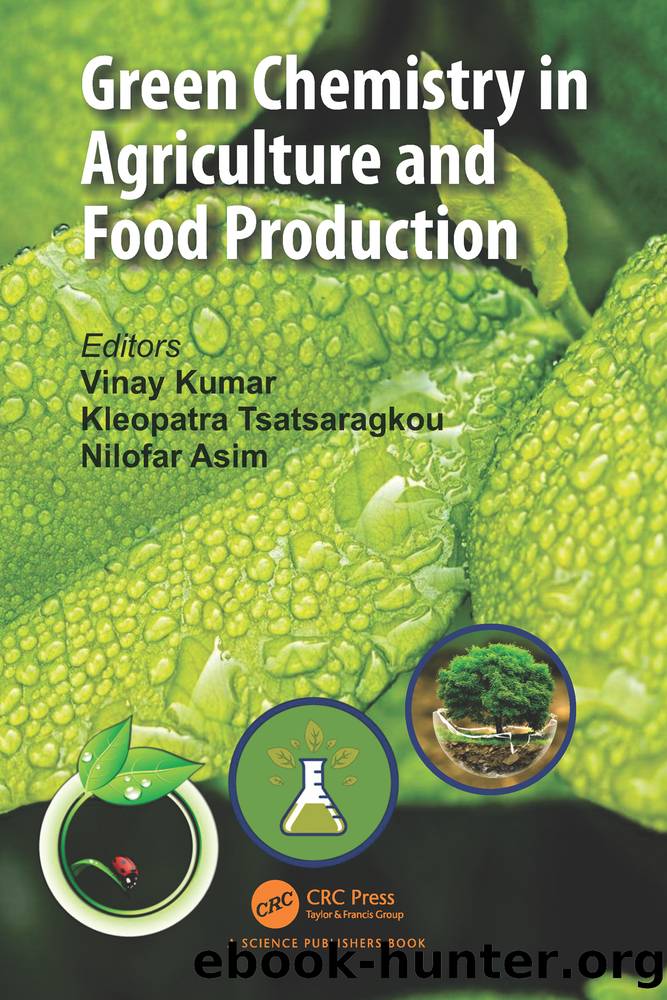 Author:unknow
Language: eng
Format: epub
ISBN: 9781000851243
Publisher: CRC Press (Unlimited)
Published: 2023-03-15T00:00:00+00:00



3.2 Ultrasound-Assisted Extraction
Ultrasound-assisted extraction produces a cavitation phenomenon, which leads to the production, growth, and collapse of bubbles (Azmir et al. 2013). UAE accelerates heat and mass transfer via the disruption of plant cell walls, leading to improved release of the target compounds from several plant materials (Roselló-Soto et al. 2015). The temperature, the frequency, the pressure, and the sonication time are the main parameters affecting the action of ultrasounds (Rajha et al. 2015, Vinatoru et al. 2017). It is characterized as an easy to use method, which is versatile, flexible, and requires low investment compared with other extraction techniques. Ultrasound has been used in various applications, such as the extraction of various biomaterials/ substances including oils, polysaccharides, proteins, pigments, and bioactive compounds (Briones-Labarca et al. 2015, Tiwari 2015).
Ultrasound equipment consists of an inverter that converts electrical energy into acoustic energy, causing mechanical vibrations at ultrasonic frequencies. The resulting ultrasound is irradiated by the transmitter, which is also known as a reactor amplifying the waves. Ultrasound systems have been developed for both laboratory and industrial scales. On a laboratory scale, the most common equipment is the ultrasonic bath, which is low cost and is used for the dispersion of solids in a solvent and the ultrasonic treatment of liquid samples in containers by immersion into the bath. However, it has certain disadvantages, such as reduced power over time, lack of uniformity of the ultrasound energy distribution, and reduced reproducibility and repeatability of the experiments. For smaller volumes, closed type extractors are equipped with an ultrasound transducer and are considered more potent as the ultrasound intensity is emitted from a small surface where the probe is submerged directly into the flask avoiding attenuation (Pingret et al. 2013, Azmir et al. 2013, Takeuchi et al. 2009, Mason et al. 2005).
In both devices the main purpose is the satisfactory disruption of the cell walls and adequate mass transfer, leading to the enhancement of ultrasonic extraction yield (Briars and Paniwnyk 2013). Compared to other conventional extraction methods, the solute can be diffused through the cell walls into the solvent in a shorter time (Chemat et al. 2012).
Table 4 performs some applications of UAE for the recovery of extracts of plant materials. Similarly, UAE enhances the recovery of bioactive compounds from plant sources. Chung et al. (2010) combined aqueous acetone and ethanol solvents with ultrasound and they found that the use of ultrasound improved the extraction of phenolic compounds from soybean compared to the conventional Soxhlet extraction. Recently, the UAE has also been proposed as an alternative green extraction method for a variety of bioactive compounds from grape (Ghafoor et al. 2009, Bajerová et al. 2014, Samaram et al. 2015), apple pomace (Minjares-Fuentes et al. 2014), mandarin pomace (Dahmoune et al. 2013), pomegranate seeds (Tabaraki et al. 2012), olive leaves (Şahin and Shamli 2013a), Eucalyptus globulus leaves (Palma et al. 2021), Moroccan Lavandula stoechas L. (Ez et al. 2021), Empetrum nigrum (Gao et al. 2021), Moringa Oleifera leaves (Daghaghele et al. 2021), and black quinoa (Melini and Melini 2021).
Download


Copyright Disclaimer:
This site does not store any files on its server. We only index and link to content provided by other sites. Please contact the content providers to delete copyright contents if any and email us, we'll remove relevant links or contents immediately.