Gravel and Grit (Khargals of Duras Book 1) by Stacy Jones
Author:Stacy Jones [Jones, Stacy] , Date: November 28, 2022 ,Views: 9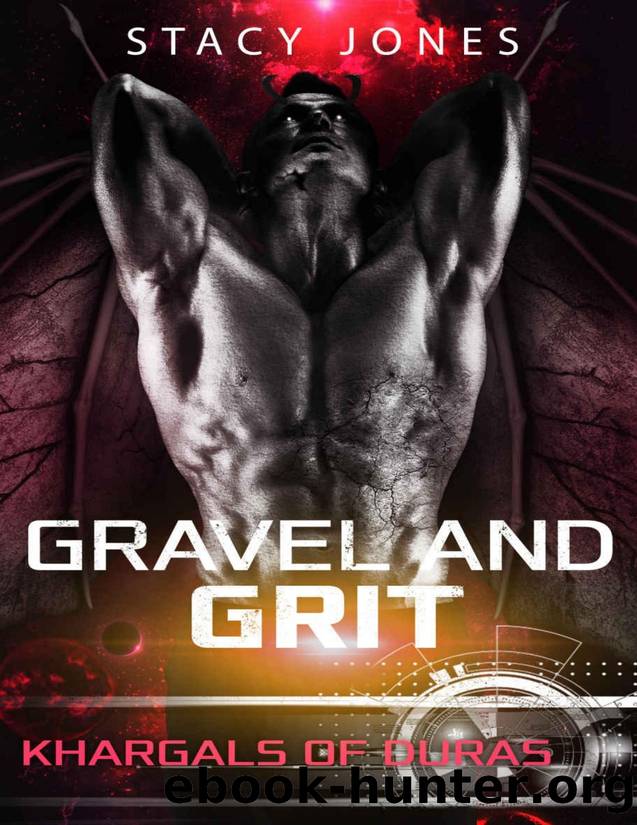 Author:Stacy Jones [Jones, Stacy]
Language: eng
Format: epub
Published: 2019-02-17T06:00:00+00:00



2 2
MIRA
Mira couldn't stop thinking about what they'd overheard. The beautiful nighttime scenery passed by unnoticed beneath her as she clung to Zaek, aided by a harness he'd fashioned from torn strips of jeans. It made the flight infinitely more comfortable, but not having the distraction of screaming muscles and the fear of falling to her death meant she had room to think of other things. Like what the hell she was going to do at the end of this impromptu adventure, whenever that end might be.
She hadn't asked Zaek what his plans were, yet, but she couldn't imagine they fortuitously included a feasible solution to the predicament in which she found herself. So, how was she going to convince the powers that be that she wasn't a traitor, not to kill her, and—just in case that wasn't asking enough—
could they also give her her job back?
Maybe I can convince Zaek to let me take the device back when he's done with it. He seems pretty attached to it, but it couldn't hurt to ask. Might help convince General Harrison, the murderous asshole, I'm not a traitor, if I also have a record of observations about an extraterrestrial. I could ask Zaek to share details of his physiology and society that wouldn't compromise him or put his people at a disadvantage or risk their safety.
Mira knew there was no way they would just take her word for it. She would have to return with information they would want. Otherwise, it would be more convenient to kill her. There was no one to miss her or alert the authorities if she disappeared and no one to care if she showed up dead, not
that they were sloppy enough to allow her death to look like anything other than an accident.
Going into hiding in another country was a brief and quickly dismissed idea. Growing up as an orphan made her street smart, but she didn't have the resources, contacts, or funds needed to create a new identity or live off the grid.
That meant her best chance at living through this was returning to Area 51 with evidence that she'd been held against her will.
That felt like a betrayal to Zaek, but she couldn't think of anything better.
She hated the thought of painting him as the bad guy and didn't particularly want to go back to work with people who thought so little of her and were so damn quick to order her killed. But, she had to at least get them to remove her criminal status before she could quit, move far, far away, and never work for the government ever again.
Watching him from the corner of her eye, she decided she would bring it up when they stopped for the night.
They'd walked for hours through the woods with minimal breaks to rest, bypassing any towns and people, until night fell and they could fly without being spotted. That was at least two hours ago.
She hoped he found something suitably safe and secluded
Download


Copyright Disclaimer:
This site does not store any files on its server. We only index and link to content provided by other sites. Please contact the content providers to delete copyright contents if any and email us, we'll remove relevant links or contents immediately.