Giovanni Lascorza and the Tyrant of Siena by Jude C Mahoney & Edward Harris
Author:Jude C Mahoney & Edward Harris , Date: October 18, 2020 ,Views: 12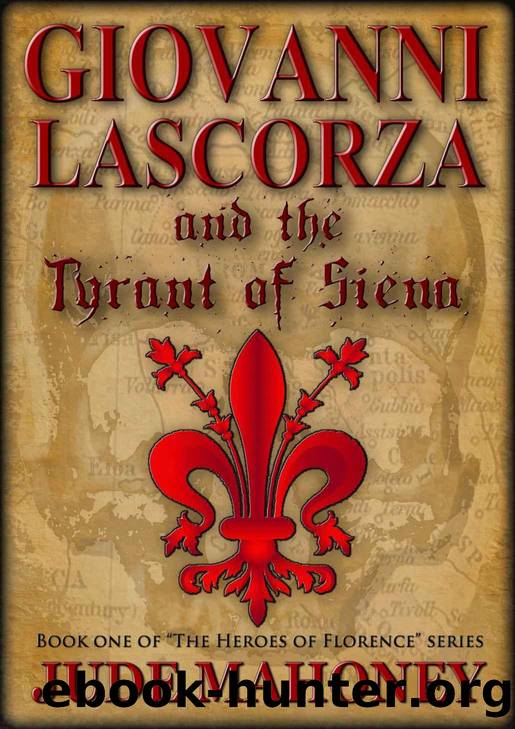 Author:Jude C Mahoney & Edward Harris
Language: eng
Format: mobi, epub
Tags: Historical, Fiction
ISBN: 9781470022150
Publisher: CreateSpace
Published: 2012-02-04T16:00:00+00:00



CHAPTER 22
The entire column had, by now, plunged into the dark, foreboding periphery of the forest. The density of the trees barely allowed sunlight to penetrate lending the place an oppressive feel. A cloying, earthy smell permeated the air. No birds sang, no sounds could be heard and the dank forest floor muffled the sound of horses' hooves.
A quarter of an hour had passed and there was no sign of an end to the forest path. Not realising that he'd been holding his breath, Giovanni exhaled as slowly and quietly as he could. Observing the tension written over Otto's and Isabella's faces, he allowed himself to think, albeit momentarily, that there was no threat, that they were now perfectly safe. As soon as that thought entered his mind, a single arrow aimed at one of the leading scouts, zipped out of the gloom, penetrating his armour and burying itself in the unfortunate man's throat. As the mortally injured scout grabbed hold of his throat and fell from his horse with his lifeblood gushing from the wound, more arrows flew through the air burying themselves in their intended targets.
All Hell broke loose as men charged from the undergrowth wielding a variety of weapons and screaming terrible war cries. "Bandits!" cried Giovanni, "they must've been the ones who attacked us before!" Taking a firm grip of his reins, he screamed, "This is our chance, stay with me!" Needing no further invitation, Otto and Isabella followed his lead, fending off anyone who got within striking range.
Within a few minutes all three of them had managed to put some distance between them and the ensuing chaos of the battle. Riding hard along the tightly winding forest track proved difficult; on more than one occasion Otto received a slap in the face from a low lying branch, but the chance to escape was sufficient reward in itself. After less than thirty minutes of frantic riding, a thin shaft of light appeared in the distance indicating the end of the forest. The trio rode harder and faster than ever, seemingly free of their pursuers who were now busily fighting for their lives several miles behind them.
Bursting out into brilliant sunshine, the three riders put at least another half mile between themselves and the forest before slowing down to catch their breath. Panting, Isabella spoke first. "How far from Florence do you think we are, seven, eight miles?"
Gasping for breath and with his legs aching from the strain of staying in the saddle, Otto stared at the horizon intently, looking for any familiar features that may give some clue as to how far away they were from real safety. "Maybe, as the crow flies, but as I said, the terrain will slow us down considerably. We need to get as close as we can before nightfall, we don't want to be out here after dark, because either those bandits or wild animals or even the terrain will kill us off. One wrong step in total darkness on these hills could prove to be fatal.
Download


Copyright Disclaimer:
This site does not store any files on its server. We only index and link to content provided by other sites. Please contact the content providers to delete copyright contents if any and email us, we'll remove relevant links or contents immediately.