Forced Allegiance: A Dark Mafia Contemporary Romance (The Romano Family Book 1) by Cora Masters
Author:Cora Masters [Masters, Cora] , Date: November 28, 2022 ,Views: 10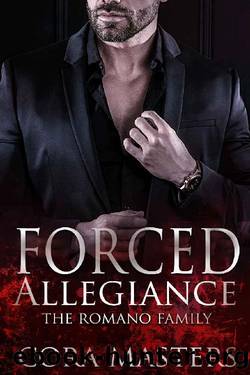 Author:Cora Masters [Masters, Cora]
Language: eng
Format: epub
Published: 2022-09-16T16:00:00+00:00



CHAPTER 12
Luciano
I woke up before Bria did, but as soon as I started to move, she stirred.
It was still fairly early in the morning and she just looked at me for a second before closing her eyes and attempting to go back to sleep. I fought a smile. I'd given her a good workout last night. The release she gave me, even had me wanting to curl back into her warmth, but I forced myself out of the bed.
Walking around the room for just a minute to loosen up my muscles before starting my own personal coffee pot to brew, I slipped on a t-shirt.
Her eyes opened again as the smell of coffee sifted through the room.
"Hi there. Do you want to go to work with me today?" I gave her what I considered my dazzling smile. Not that I needed to turn on the charm because she obviously enjoyed what she was looking at, but it never hurt to add a few kilowatts of shiny teeth to the mix.
"I would rather have my own job in the family business. If it means getting out of this house, then I'm willing to join you for today." She sighed and sat up.
"Well, I'd like you to shadow me today and get a feel for how we run our family business." I poured the coffee and handed it to her before restarting it for my own cup.
"Okay," she agreed. "I do need to get a feel for how you do things and that way we can figure out where I best fit into the scheme of the family business."
She hopped out of bed; my dick stirred at her body and how she didn't hide it from me. She went over to the closet where one of the maids had already unpacked all of her clothes. Bria actually didn't have that much stuff that she'd brought with her. It made me wonder if there was more sitting in some abandoned room at her family mansion, the Montrellis' home.
Hopefully, she would feel comfortable enough bringing the rest of her things over after the wedding.
We both got dressed in silence, but I was excited to find that she had managed to make sophisticated business attire look stunning. I was already itching to strip her and have my way with her.
Our children were going to be gorgeous. I wanted to laugh at the fact that I was thinking about something that was obviously happening but until four days ago hadn't even been a thought in my brain. It was crazy how fast things could change and priorities shifted.
Cups of coffee in hand, we headed down to the kitchen, where the cook quickly started making breakfast for us.
As we waited for it to cook, I went over with Bria the schedule of where we needed to go for today.
"There's a couple of businesses that we need to visit and check in and make sure everything's going okay. It's always good for the boss to show up and have a little face to face time with those running the actual businesses.
Download


Copyright Disclaimer:
This site does not store any files on its server. We only index and link to content provided by other sites. Please contact the content providers to delete copyright contents if any and email us, we'll remove relevant links or contents immediately.