Enola Holmes and the Boy in Buttons by Nancy Springer
Author:Nancy Springer , Date: August 4, 2021 ,Views: 68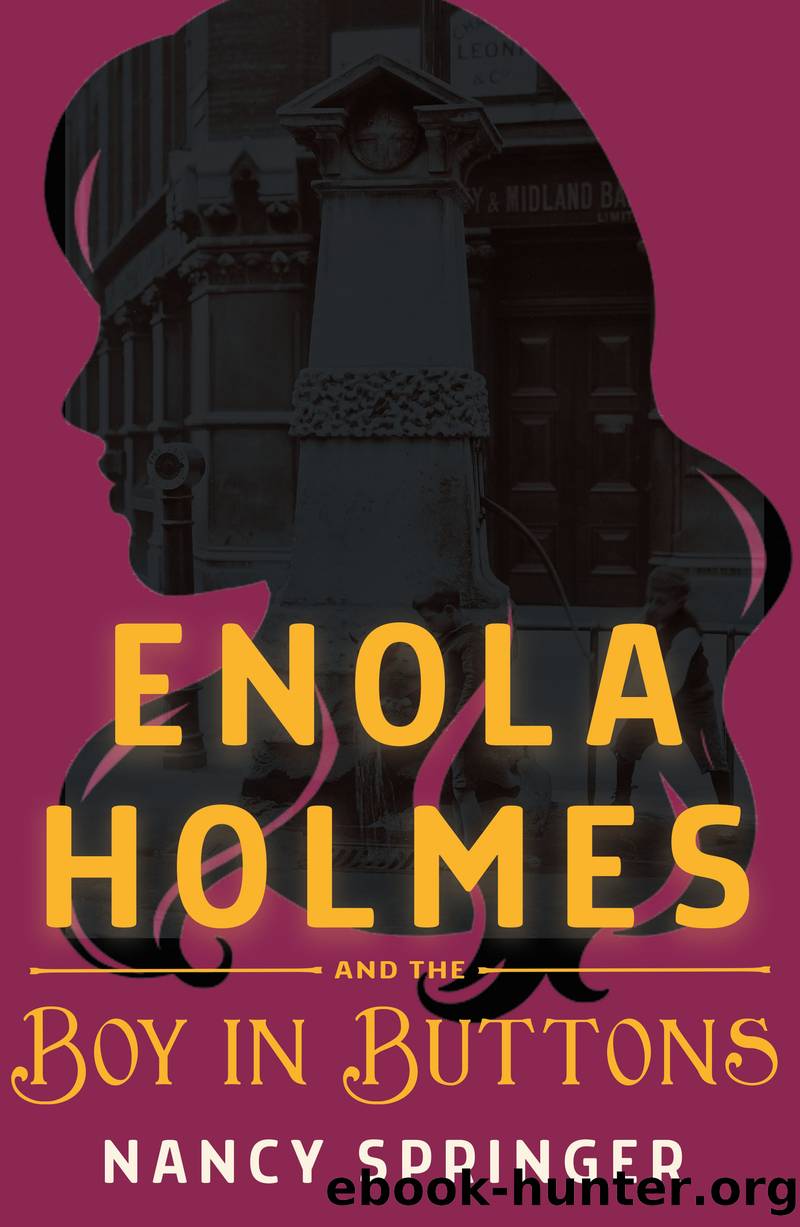 Author:Nancy Springer
Language: eng
Format: epub
Publisher: St. Martin's Publishing Group



* * *
Once I finally stopped running, I paused for breath and set Paddy on his feet. "Miss Meshle, um, Jacobson, um, 'Olmes!" he bleated.
"Yes. Let us get you home."
"Miss Meshe, um, Jacobson, um, 'Olmes!"
I questioned him, trying to ascertain whether he was hurt or hungry or both, but he seemed incapable of any more sensible utterance. So I offered my hand, but he latched onto my skirt, and we walked off at a hampered pace. Silent and stoic, Paddy dragged his feet, so evidently done in that I picked him up again and carried him in my arms; he laid his head on my shoulder and slept.
This slowed me down considerably, so that by the time we reached Aldgate Pump it was already dawn, and folk were up and about. Feeling a bit done in, I set Paddy on the kerb, laboured to pump the great handle, then bent to wash my face and hands in the resultant gush of water. After a moment, Paddy got up and did the same. Then, still mute, as if tugged by a kind of inward gravitational force, he trudged toward his home.
I tarried a little to make various purchases from hucksters heading for market, so I missed seeing the reunion of mother and child. When I reached the tenement room, I found Paddy and Joddy and their mother and the other children all in a single tearful embrace, so that I slipped in unnoticed with my arms full of bread and pears and meat pies and the like, leaving them on the bare table and turning to go before anyone noticed.
But Joddy saw. "Miss Meshle!" he yelped, ricocheting toward me.
"Miss Enola Holmes," I corrected gently, standing very erect and proper to keep him from embarrassing himself by embracing me. "Joddy, I see you still have a dreadful cold. You and Paddy must both take time off until I can have a new uniform made up. But I have not yet paid either of you." I pressed a generous sum of money into his hands, then at once took my leave.
Perhaps an hour later, safe in my much superior lodging, I sank gratefully into my comfortable bed, feeling quite entitled to miss my classes for the day. But I could not immediately sleep, for my mind was busy with thoughts of Paddy … Joddy and Paddy … purchase two new uniforms, hire them both … raise their pay to feed the family … see to it that they got some education …
Download


Copyright Disclaimer:
This site does not store any files on its server. We only index and link to content provided by other sites. Please contact the content providers to delete copyright contents if any and email us, we'll remove relevant links or contents immediately.