Drinking Water Treatment for Developing Countries by Pandit Aniruddha Bhalchandra;Kumar Jyoti Kishen; & Jyoti Kishen Kumar
Author:Pandit, Aniruddha Bhalchandra;Kumar, Jyoti Kishen; & Jyoti Kishen Kumar [Неизв.] , Date: October 23, 2021 ,Views: 106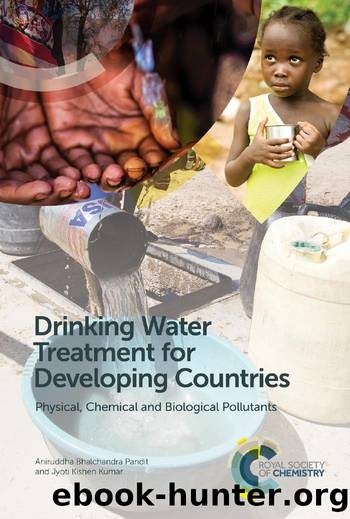 Author:Pandit, Aniruddha Bhalchandra;Kumar, Jyoti Kishen; & Jyoti Kishen Kumar [Неизв.]
Language: eng
Format: epub
ISBN: 9781788017626
Publisher: Book Network Int'l Limited trading as NBN International (NBNi)
Published: 2019-03-03T21:00:00+00:00



3.6.3 Ultraviolet Irradiation
Irradiation with UV systems is yet another method of disinfection that has been used as it is easy to install and economical to operate and maintain. In recent years, there has been a renewed interest in UV systems for water disinfection due to their ability to inactivate (>99.9%) chlorine resistant protozoans, Giardia lamblia cysts and Cryptosporidium parvum oocycts. Generally, a 16 mJ dose of UV is sufficient for disinfection of non-pathogenic organisms. However, for inactivation of Giardia and Cryptosporidium, a minimum dose of 40 mJ is required. However, for UV systems to function, water must have low turbidity to enable UV penetration and microbial deactivation.18 Therefore, these lamps need periodic cleaning, especially if placed in a submerged configuration. Due to their finite life span, they must be periodically replaced. Further research on the use of UV for treating harvested rain water has led scientists to investigate the ability of UV to treat micropollutants in rain water.
It has been reported that a Vacuum–UV (VUV) process is a promising advanced treatment of rain water due to its high efficiency, easy installation and safe rain water reuse. VUV is an emerging technique and is based on advance oxidation processes (AOPs). It works by generating HO˙ by photoionization of water molecules after absorbing photons having short wavelengths, e.g., 185 nm. Most importantly, this process does not require the addition of extra oxidants and thus their subsequent removal. Li et al., in 2015, reported the first such study where six micropollutants including phenols and recalcitrant aromatics in harvested rain water were successfully treated with VUV.19
Download


Copyright Disclaimer:
This site does not store any files on its server. We only index and link to content provided by other sites. Please contact the content providers to delete copyright contents if any and email us, we'll remove relevant links or contents immediately.