Doctor Who - Bernice Summerfield - 17 - Where Angels Fear by Rebecca Levene;Simon Winstone
Author:Rebecca Levene;Simon Winstone , Date: April 8, 2021 ,Views: 14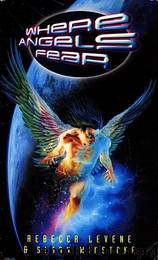 Author:Rebecca Levene;Simon Winstone
Language: eng
Format: mobi
Tags: Bernice Surprise (Fictitious Character), High Tech, Fantasy, Travel, General, Science Fiction, Summerfield, Fiction, Media Tie-In
ISBN: 9780426205302
Publisher: Virgin Pub.
Published: 1998-01-02T08:00:00+00:00



been the man"s soul. He felt his stomach clench with fear as he
realized that the analogy might not be that far off the mark.
"What do you want in return?" he asked cautiously, desperate not
to say anything that might be construed as committing himself.
"Make an offer, and if I like it I"ll take it," the imp said. "If
not..." It shrugged, and Emile knew that it wasn"t going to tell
him what the consequences of making the wrong offer might
be.
"So there"s no chance of you telling me something for
nothing?" he ventured. "Kind of a free trial offer."
The imp laughed unkindly. "I wasn"t born yesterday, bud," it
said. "All knowledge comes with a price. Don"t they teach you
kids that any more?"
"I..." Emile looked round at the cultists, now clustered close to
the chalk circle that they were in danger of crossing Adnan
noticed it too, and roughly pushed them back, an expression
of alarm on his face. When he looked over at Emile, it had
been replaced by one of avid curiosity. Emile suddenly felt like a
lab rat in a very unhealthy experiment "I..."
The imp leant forward. "You gonna reach a decision some
time this century, kid?" it asked.
"I..." Emile clasped his arms around himself. "No. You can go,"
he said. "I don"t think I"m willing to pay the price."
The little creature grinned ferally at him. 'Yeah, no one is till
they"re desperate enough. Be seeing ya, then."
There was a small, clear pop, and the chalk circle was
empty.
After that there was a moment"s stillness, as everyone
seemed to ask themselves if they"d really just seen what they
thought they"d just seen. Then the gathered students
dissolved into frantic talking and the too-loud laughter of
frightened relief.
Adnan continued staring at the circle for a long moment, a look
of disappointment on his face. "I wonder what he would have
told you," he said.
"You could always call him back and ask him yourself,"
Emile ventured.
Adnan stared at him, as if he"d said something very stupid or
very insulting. "This isn"t a game," he said. "This stuff… it
changes everything. With these powers we can do any thing."
Then he flashed his signature broad smile. "If we"re willing to
pay the price."
Download


Copyright Disclaimer:
This site does not store any files on its server. We only index and link to content provided by other sites. Please contact the content providers to delete copyright contents if any and email us, we'll remove relevant links or contents immediately.