Cruel War: Gilded Sovereign by René Dani
Author:René, Dani , Date: July 3, 2021 ,Views: 40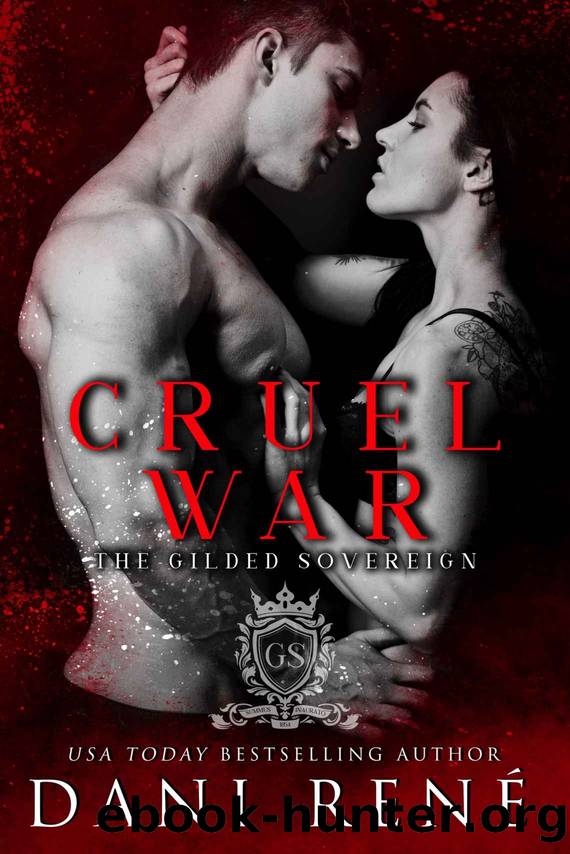 Author:René, Dani
Language: eng
Format: epub
ISBN: 978-0-639-81046-1
Publisher: Dani René Books
Published: 2019-09-04T16:00:00+00:00



Tomorrow at the bonfire, our first battle… Let's see if your petals will burn in the heat.
It doesn't take long for her to respond with anger and rage, just like I knew she would.
I don't take orders, Lancaster. It doesn't matter who you are or what lies in our past, I will not bow to you and your sick needs.
I crack a smile at her feistiness. I'd never had a woman who was so adamant at hating me, but then again, I'd never been in such turmoil over anyone before. Most of the girls at school throw themselves in my path because they want to be seen. They crave the popularity that the Lancaster name can give them, but I find myself not wanting their attention. Instead, I'm more interested in the blossoming Dahlia than anyone else.
Typing out my response, I hit send before I head into the bathroom and turn on the shower. Stripping down, I glance at the ink and blood that's collected in a pattern around the plastic wrap covering my new tattoo.
Staring at myself in the mirror, I take note of the tattoo that makes me one of the Crowns. The one thing I wanted all my life is now in my hands. But that's not the only thing I crave, there's one more thing that's mine.
The moment I tug the tape holding the plastic wrap, a hiss escapes my clenched teeth. "Fucker," I growl to myself. Opening the cabinet, I find a fresh roll of medical tape and tear off a few pieces. Gently, I work to recover it, making sure it's airtight, so it doesn't get wet.
I step under the spray and let the water massage my tense shoulders before I lather up the rest of my body. My mind is still on a loop, replaying how Dahlia's body trembled beneath mine.
Her soft curves, her sweet perfume, and the way her pupils dilated were evidence enough that she wants me.
How can I crave a woman whose father has done such bad shit to mine?
My eyes close, and I can't stop my hand from dropping to my shaft. Fisting myself, I stroke slowly, edging myself as I picture her delicate hand wrapped around me.
Thinking about her sweetness, her fire, and her curves, I groan as pleasure zips through me like a lightning strike. My nerves are frayed, my need for her is unacceptable, but I can't stop my hand jerking harder, faster, picturing her plump lips parting for me, and another low growl escapes me when I imagine painting her pretty face with my release.
My body tenses and I call her name as I empty myself down the drain. "This is fucking ridiculous," I murmur at the walls that surround me.
Once I've rinsed off the soap, I shut off the taps and step out onto the soft mat and grab a towel, wrapping it around my waist. Back in the bedroom, I pick up my cell and find a response from Dahlia.
With a grin, I hit dial on her number.
Download


Copyright Disclaimer:
This site does not store any files on its server. We only index and link to content provided by other sites. Please contact the content providers to delete copyright contents if any and email us, we'll remove relevant links or contents immediately.