Cowboy Games by Wendi Darlin
Author:Wendi Darlin [Darlin, Wendi] , Date: May 6, 2021 ,Views: 39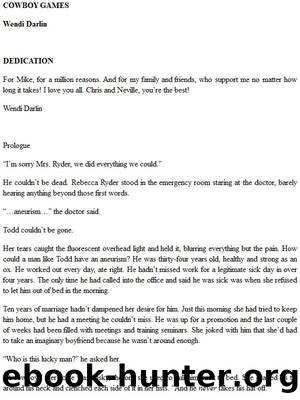 Author:Wendi Darlin [Darlin, Wendi]
Format: mobi
Tags: contemporary
ISBN: 9781606010846
Publisher: Siren Publishing
Published: 2009-06-06T04:48:31+00:00



Chapter 7
"You'd druther wait outside in the rain, than come inside my cabin where the coffee's ready and everything's all nice and dry?" Rebecca said, arching her brow and eyeing Gavin suspiciously.
He pulled her through the threshold and met her lips with a kiss that shot straight to her toes. "It doesn't matter what I'd druther do. After last night, I'd better wait out here," he said.
She would have completely melted into him right then and there if he had given her a chance to. Instead, he held her at arms length and handed her a bag used to keep her clean laundry dry in the downpour. Rebecca smiled. She wasn't sure what to expect after their phone rendezvous, but he was behaving perfectly. He wasn't pushing her, or expecting more and he wasn't running away either. He was taking it slowly, just as he said he would.
"You're beautiful," he said, pushing her hair away from her face. "I love your smile."
God, it sounded good when he said that.
"So you go for the phone sex thing?" she asked.
"It definitely beats the way I'd been having my way with you."
"You've been having your way with me?" Her heart pounded and her body flushed from the top of her head to the bottom of her feet.
His thumb traced the quiver in the corner of her mouth. "So many ways with you."
She leaned closer. "Kiss me one more time," she whispered. "Like you would have kissed me last night."
His arms slipped around her waist and his head dipped to her neck trailing kisses into the V of her robe. His mouth sank into the soft flesh of her breast and moved to her nipple. She cried out as he swirled his tongue over the sensitive knot of flesh. He stood replacing his mouth with his hand and led her tongue in a dance with his that left her seeping with need.
"I'll bet you're an amazing lover," she said as he stilled his lips but kept them at hers, barely touching.
"I hope you'll think so."
A shiver zipped up her spine. She wanted to find out. In the wake of what they'd shared, and the heat of his kiss, none of her reasons for holding back held an ounce of rationale. It was time. Past time. She took his hand to coax him into her room. "Show me," she said.
* * * *
Marge held the phone away from her ear as Chet swore.
"I need something concrete," he said. "Something that I can shove so far up their asses their lawyers can't pull it out."
She gripped the stem of her glass. Wine for breakfast. Again. Her bones jarred with every one of her nephew's words. "I don't think there's anything illegal going on here."
Chet snorted. "Let me do the thinking!" For the next few seconds she could almost hear the gears turning in his head. "Alright here's what you're going to do. Make sure that cowboy of yours is in your room tonight. Late. Do whatever you have to do to keep him there.
Download


Copyright Disclaimer:
This site does not store any files on its server. We only index and link to content provided by other sites. Please contact the content providers to delete copyright contents if any and email us, we'll remove relevant links or contents immediately.