Comfort in the Wings: A Novel Inspired by Love That Will Not Die by Jennifer Collins
Author:Jennifer Collins [Collins, Jennifer] , Date: October 14, 2021 ,Views: 20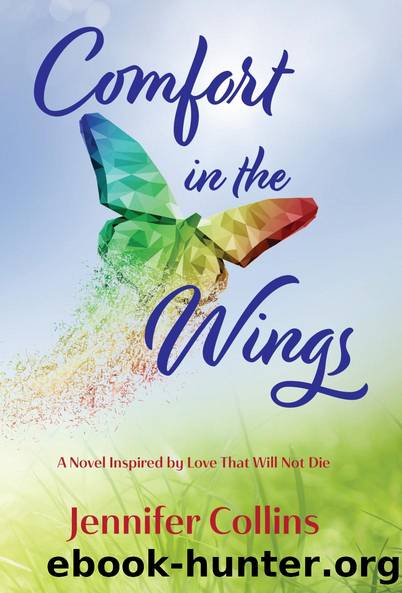 Author:Jennifer Collins [Collins, Jennifer]
Language: eng
Format: epub
Tags: grief, bereavement, mourning; loss, tragedy, and trauma; mothers and children, family life; friendship and personal journeys; spirituality, mediums and psychics; upstate new York and fingerlakes region; book club and reading groups
ISBN: 9781737676621
Publisher: Words in the Wings Press
Published: 2021-09-19T15:45:41+00:00



20
When we honestly ask ourselves which person in our lives means the most to us, we often find that it is those who, instead of giving advice, solutions, or cures, have chosen rather to share our pain and touch our wounds with a warm and tender hand.
Henri Nouwen
We make our way to the kitchen in silent agreement to prepare the stir-fry for dinner. Neither one of us is speaking about anything of any importance beyond finding oil for the pan and setting the table. The mundane chores are a welcome respite from all that was spoken and allow us each to be with our own thoughts at the same time as continuing a connection. As difficult as it was to share those stories, it is also a relief.
Steven lights the bamboo torches on the deck, and we begin to enjoy our simple meal out there. We talk more about the local wines, and I attempt to impress him with some of my newly acquired information about the Finger Lakes and their history. I should have known that living in this area for decades, his knowledge far exceeds mine. In a very short time, I am the one being impressed and becoming more and more interested in the region. I ask him about some of the sights Doris suggested, and he is more than willing to fill me in on what might be of interest.
As we finish our dinner, I ask, "Do you believe in signs from those who have passed to the other side, or communicating with them, or anything like that? Not to get into religion, but do you think there could be a spirit world or an afterlife? I never thought about these things before, before Emma, but now I think about them all the time. I see signs from people who have died, and my dreams are bringing me messages from them. A total stranger in the airport referred to people I lost as being close to me. I used to dismiss all of that as not scientifically possible, even quackery, but I'm getting really intrigued by all of this. And frankly, it brings me some semblance of peace that maybe people I love who have passed to the other side can connect with me. Am I just crazy?"
"I've wondered those things many, many times, Larissa. My grandmother swore that her twin sister who died of pneumonia when they were only five years old sent her signs all the time. Said she moved toys around in their shared bedroom, or after more time passed, appeared to her as a butterfly or a bird feather at times when those things just couldn't have been a coincidence. She told me if I looked for those things, I'd see them as well.
"After she died, I felt her presence all the time. Her favorite song came on the radio on her birthday, or I'd see her favorite bird, the pale brown and red tinged, female cardinal—she always liked them better
Download


Copyright Disclaimer:
This site does not store any files on its server. We only index and link to content provided by other sites. Please contact the content providers to delete copyright contents if any and email us, we'll remove relevant links or contents immediately.