Cocky Corporal: A Hero Club Novel by April Canavan & Hero Club
Author:April Canavan & Hero Club [Canavan, April] , Date: May 14, 2022 ,Views: 25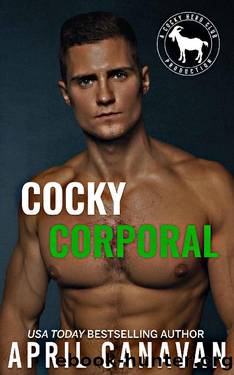 Author:April Canavan & Hero Club [Canavan, April]
Language: eng
Format: epub
Publisher: Cocky Hero Club, Inc.
Published: 2021-01-02T16:00:00+00:00



12
Cole
Graham and I walked into Tig's Tattoo and I smiled as I saw what we'd been summoned for.
Soraya and Delia were both sleeping, curled together on the couch that sat in the client waiting area. Soraya's call had come while I was on the phone with Sergeant Hayes, and we'd had to wait to get everything settled before heading out.
"Soraya didn't tell me that she'd be sleeping when we got here." Graham whispered loudly as we watched his wife drool on one of her closest friend's heads. "But I'm kind of glad that she did. Otherwise, I wouldn't get to grab this gem." He pulled out his phone and took about a dozen photos, smiling like a fool the entire time, snickering when she snorted in her sleep. "She's gonna have to do so much to keep these from getting sent out with our Christmas card this year."
One of my favorite things about my cousin was the fact that he loved his wife more than anything else in the entire world. That love didn't stop him from giving her a hard time, though. Nor did it stop the two of them from bickering like children sometimes.
So while Soraya and Delia continued to sleep, Graham tried his best to move them over and make room for himself on the couch. The incessant buzzing from the other side of the room finally filtered through my brain and drew my attention away from Graham.
I couldn't quite see who was getting tattooed, but my curiosity demanded that I find out. Soraya wasn't normally a patient person. There weren't many people that she would wait on long enough to fall asleep. Shooting a glance over my shoulder, I saw that my cousin was still entirely engrossed in getting his unconscious wife to move over and make space for him to sit on the couch.
Tig, on the other hand, was bent over a familiar redhead with a gun in his hand. The same redhead that I'd been hoping to spend time with for a week. The woman who subsequently drove me crazy and made my heart race all at the same time.
"Breathe, Casper. We're almost done." Tig spoke to Casper gently, like he was afraid of spooking her. "Remember, you're here. You're safe. And this was your decision. No reason to panic."
At the mention of her panic attacks, my hackles raised almost immediately. Like a hawk, I watched how he handled her, how Casper was breathing, and how she seemed to relax under the tattoo gun. She didn't react, or even flinch as Tig wiped away some ink and kept working on the piece of art he was creating for her.
"Heya Cole." Tig said without looking up when I shifted from one foot to the other. "You finally ready to let me tattoo that perfect skin?"
I watched as Casper tensed momentarily, but she didn't flinch away from the needle currently digging into her skin. Nor did she open her eyes. Instead, I watched as she relaxed before I addressed Tig's comment.
Download


Copyright Disclaimer:
This site does not store any files on its server. We only index and link to content provided by other sites. Please contact the content providers to delete copyright contents if any and email us, we'll remove relevant links or contents immediately.