Climate Change, Media and Culture by Pinto Juliet; Gutsche Robert E. Jr.; Prado Paola
Author:Pinto, Juliet; Gutsche, Robert E., Jr.; Prado, Paola , Date: October 23, 2021 ,Views: 168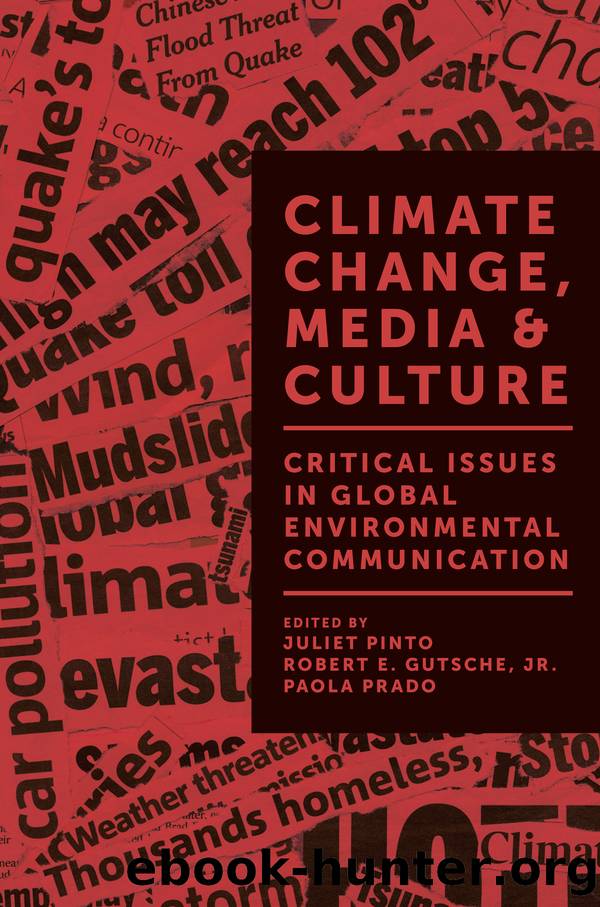 Author:Pinto, Juliet; Gutsche, Robert E., Jr.; Prado, Paola
Language: eng
Format: epub
Publisher: Emerald Publishing Limited
Published: 2019-09-06T16:00:00+00:00



News Media Use and Trust in Sources
Little research has been done about trust in different information sources related to climate change in Canadian news. Instead, comparative studies suggest that trust in news media (all topics) is approximately 49% in Canada, compared to 38% in the United States, 49% in Norway, and 42% in Australia (Newman, Fletcher, Kalogeropoulos, Levy, & Nielsen, 2017; Public Policy Forum, 2017). Furthermore, this research suggests that approximately 33% of Canadians use printed news sources and 70% use television as a source of news (Newman et al., 2017). One unique feature of Canadian news consumption is the popularity of foreign, particularly American, news sources. Thirteen of the top 20 news sources used by Canadians are foreign (e.g., Huffington Post, Yahoo, ABC News, Buzzfeed, and CNN) (Public Policy Forum, 2017). As such, views about climate change news coverage may follow American statistics.
According to PEW Research Center, approximately 54% of Americans obtain their science news from mainstream news organizations (Funk, Gottfried, & Mitchell, 2017). Only 10% of Americans report obtaining their science news regularly from government sources (Funk et al., 2017). While Americans' use of mainstream news for scientific information did not differ by political orientation, Americans' trust in these sources did differ, with Democrats offering more favorable evaluations of these sources than Republicans (Funk et al., 2017).
According to Malka et al. (2009), trust in information sources is of vital importance because it not only affects the public's intake of knowledge, but also their level of concern regarding climate change (p. 639). Sleeth-Keppler et al. (2017) extended this argument further and demonstrated that trust in different sources affects support for public policies to address climate change. In particular, trust in scientists as a source of information about climate change had a strong positive correlation with perceptions of the effectiveness of nine different policy solutions (Sleeth-Keppler et al., 2017). Brewer and Ley (2013) reported that average levels of trust in the US Environmental Protection Agency (EPA) as a source of information about the environment is higher than mainstream media, but lower than university scientists, science television and science magazines. This finding is important given President Trump's decision to drastically cut funding to the EPA and order the removal of climate change information from the EPA website (Green, 2017). Pew research suggests that 67% Americans support the idea that climate scientists should have a role in public policy, but this support differs by almost 30 percentage points for Liberal Democrats as opposed to Conservative Republicans (Pew Research Center, 2016).
In the United Kingdom, Bickerstaff, Lorenzoni, Pidgeon, Poortinga, and Simmons (2008) found that environmental organizations were most trusted to "tell the truth about climate change" (p. 155) followed by scientists working for environmental groups and university-based scientists. In contrast, trust in national government was very low (p. 155). Stoutenborough, Liu, and Vedlitzet (2014) documented a decline in trust in various media sources, government, and environmental groups as sources of information on global warming (pp. 29–30). Leiserowitz, Maibach, Roser-Renouf, Feinberg, and Rosenthal (2015) found
Download


Copyright Disclaimer:
This site does not store any files on its server. We only index and link to content provided by other sites. Please contact the content providers to delete copyright contents if any and email us, we'll remove relevant links or contents immediately.