Ciphers: A King & Slater Thriller (The King & Slater Series Book 3) by Matt Rogers
Author:Matt Rogers [Rogers, Matt] , Date: July 12, 2022 ,Views: 3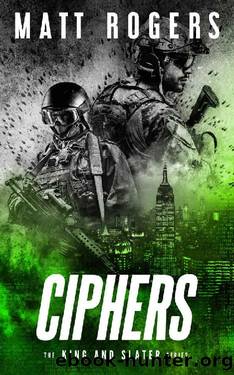 Author:Matt Rogers [Rogers, Matt]
Language: eng
Format: epub
Published: 2019-09-11T16:00:00+00:00



39
Slater kept his arm so tight around Rico's throat that the kid wouldn't even try to escape.
If he squirmed, Slater would tighten the pressure. And then the squeeze would become unbearable, and Rico would either pass out from the restricted blood flow to his brain, or the sheer stress alone would get to him and he'd faint.
Slater dragged the kid further away from Fifth Avenue, prioritising secrecy. He noticed King following in stride, but didn't pay too much attention. They operated as one, and King would make sure to cover him in his moment of vulnerability. Slater made it to a narrow alcove between two buildings in the laneway and dragged Rico into it, plunging out of sight of anyone passing by.
King followed.
The alcove was small, barely wide enough to fit the three of them, surrounded on three sides by sheer brick wall. Slater noticed damp gravel underfoot and made a point not to shift his weight around too much.
He muttered, 'Rico, I'm going to release a bit of pressure on your throat. If you even think about screaming for help, I'll break your nose. It won't feel good. That's going to be your only warning.'
The kid spluttered a frantic affirmation.
Message received.
Slater kept the chokehold in place, but eased off the boa-constrictor pressure. Rico tried his best to quietly gasp for air, but his throat rattled all the same. More for dramatic effect than anything else, King took out his Glock and pressed the barrel to the kid's head.
It might have the side effect of making the kid wet his pants, but it'd sure as hell get him talking.
Slater said, 'Why are you following us?'
'I'm drunk, man. I'm sorry.'
'Not good enough, Rico.'
'I swear. I was just going to shout at you. You know — hurl some obscenities your way. It was a stupid idea.'
'You armed?'
'No, man. Of course not.'
'Check him,' Slater said to King.
King patted the kid's expensive suit down and came away with nothing. He nodded a confirmation.
Slater said, 'Who was your friend?'
'Just a guy from the club.'
'If it was a guy from the club he wouldn't have stayed silent. He would have shit his pants. That guy knew to run.'
'I…'
Rico trailed off.
Slater said, 'You were coming after us, weren't you?'
'No, man, I swear—'
Slater didn't tighten his grip. He just leant in closer to Rico and said in his ear, 'I'm going to start hurting you if you don't tell me the truth. Is that what you want?'
Nothing over-the-top. Nothing extreme. A simple statement, with simple truth behind it. Often, it was all that was needed. Slater knew how to ramp up the intensity over time. A slow build instead of trying to induce all-out terror right from the start. But in this case, the steady increase in threats wasn't needed.
Rico broke instantly.
'Yeah, okay, okay,' he panted, on the verge of total panic. 'We were coming after you. It was stupid. I'm so sorry. Don't fucking hurt me, man. Please don't.'
'Who's the other guy?'
'Just some guy. Crazy. Like, he's not all there in the head.
Download


Copyright Disclaimer:
This site does not store any files on its server. We only index and link to content provided by other sites. Please contact the content providers to delete copyright contents if any and email us, we'll remove relevant links or contents immediately.