Captivated by Keegan Kennedy
Author:Keegan Kennedy [Kennedy, Keegan] , Date: October 19, 2020 ,Views: 15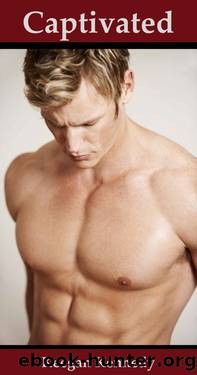 Author:Keegan Kennedy [Kennedy, Keegan]
Language: eng
Format: epub
Publisher: Kennedy-Empire
Published: 2013-10-16T19:00:00+00:00



Chapter 17: Pillow Talk
Through the long day, I had been tied up, gagged, spanked, sucked Braun's cock, been knocked out repeatedly with chloroform, received an enema, gotten fucked twice by him, worshipped his feet and had heard so many arousing revelations from him.
After the sizzling shower with Braun, he had dried me off with a towel as if I were a small child. Standing a foot beneath his towering frame, I certainly felt the part.
Having been denied any physical release of my desires, I still felt as if I were on fire. The only key to my tight chastity unit was on the chain between Braun's hulking pecs, and it seemed to be taunting me.
I had hoped after the shower that my stepfather would have some mercy on me and unlocked my constrained dick, but I was to have no amnesty. Instead, he had grabbed me by my right wrist and had pulled me from the washroom back into his bedroom.
My instincts told me that much of his severe and overly tough physical handling of me came from a place of excitement and enthusiasm. In fact, his behavior reminded me of that of an exuberant German Shepard dog playing unintentionally rough with fragile newborn kittens, not realizing that smaller creatures were more fragile than he.
Forcefully, he had marched me to the edge of his bed. "Time for our first night to sleep together as man and boy!" He announced with a near ecstatic look on his handsome, scruffy face.
With so much transpiring between the two of us that day, I had completely forgotten about this awesome new sleeping arrangement, and I felt a brilliant smile overtake my lips.
"That's right, Dad," I recalled aloud. "You had my bed taken away.... I love that you want to share your bed with me."
His hand moved into my slightly damp hair. "It is our bed, Son, and do not ever forget that. Now, that you are mine, I will not be able to sleep without you beside me." He kissed my forehead. "Knowing that I was going to reach out and take you on your birthday, I have hardly been able to sleep due to my anticipation, so, with you at my side, I am certain that I will sleep well."
"Dad, when I hear you say things like that, it still boggles my mind," I replied as he turned down his covers. "I wanted this all along and so did you.... You had me fooled, Sir." I paused, marveling. "You are such a cunning and clever man and a master of concealing your true intentions…."
"That I am," Braun stated. "Sometimes, in business negotiations, one must remain aloof and dispassionate. So, I take cunning and clever as compliments, Ian." Suddenly, the smile disappeared off of his face. "But most importantly, I am your master!" He paused and clenched his jaw. "Cross your wrists in front of you!"
Responding swiftly to his order, I crossed my arms at the wrists above my cock cage. Braun reached over to his nightstand and removed a single coil of rope.
Download


Copyright Disclaimer:
This site does not store any files on its server. We only index and link to content provided by other sites. Please contact the content providers to delete copyright contents if any and email us, we'll remove relevant links or contents immediately.