By Other Means by Mike McPhail
Author:Mike McPhail [McPhail, Mike] , Date: January 14, 2021 ,Views: 20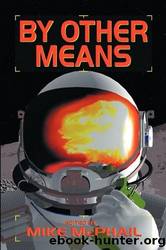 Author:Mike McPhail [McPhail, Mike]
Language: eng
Format: epub
Tags: Fiction, General, Science Fiction
ISBN: 9780983099352
Google: EtxLYgEACAAJ
Amazon: 0983099359
Barnesnoble: 0983099359
Goodreads: 10330003
Publisher: Dark Quest
Published: 2011-03-15T04:34:49+00:00



True Colors
An Alliance Archives Adventure
Danielle Ackley-McPhail
There was no stately procession to the airlock. No pomp and ceremony as the hatch was opened. Brockmann's body wasn't set adrift in the vastness of space to echo the dignity of an ancient warrior's burial at sea.
No.
She was taken away in a body bag the moment the Teufel docked. By the time the 142nd Infantry—or Daire's Devils—mustered in the barracks common room for debriefing, a corpsman was presenting to Sarge a two-inch, compressed-carbon cube and a bag of effects. That was all that was left of Suzanne Brockmann, Private First Class, Special Forces, one more offense credited against the pirates that had invaded the sector.
Private Katrion Alexander felt her hands flex, accompanied by a familiar itch in her fingers. That could have been her reduced to a geometric shape. Almost was…twice.
She must have moved without realizing it. Beside her Corporal Jackson "Scotch" Daniels cleared his throat and stepped between her and her pile of gear. Well, more accurately, between her and her gauss rifle.
"Down, Kittie, down," he murmured, his hazel eyes capturing her gaze. "Ain't no pirates here."
Kat growled. She was doing that a lot lately.
There was no time to comment. She and the rest of the unit snapped to attention as Sergeant Kevin Daire accepted the remains from the corpsman, ignoring the bag of effects. Turning his back on the man, Sarge cradled the cube in his left hand and drew his combat knife with his right. He then bowed his head; the unit gathered round and followed suit. Not a word was spoken aloud as each of them bid farewell to their fallen comrade. Nor as, one by one, each of them stepped forward and, with their blades, scratched a line into the smooth, shiny surface of her compressed remains. Each of them maintained silence as they fell back to form a loose circle around their leader once their part was complete. Sarge looked up and met their gazes. Without looking away from them he raised his knife and etched his own line, bisecting those left by the unit.
The vow was made. For each line segment on the cube was a solemn oath that the pirates would be brought down.
Only then did Scotch step forward to secure Brockmann's personal effects from the still-waiting corpsman. Whatever was in that small, compact bag would be shared out among the unit according to need. The rest would be held in reserve or given where it would best serve. Unlike Kat, Brockmann had no family to send material belongings back to, even if the military were willing to foot the bill.
The corpsman turned to leave.
"Wait." Sarge motioned for Kat and Scotch to step forward. She suppressed a flinch and came to attention in front of him. "Alexander, Daniels…accompany Corpsman Kane back to med-bay to be cleared for return to duty."
Shit. It was only to be expected, though; Kat had been banged up from her previous encounter with the pirates, and both of them had been with Brockmann when their squad had come under fire a second time.
Download


Copyright Disclaimer:
This site does not store any files on its server. We only index and link to content provided by other sites. Please contact the content providers to delete copyright contents if any and email us, we'll remove relevant links or contents immediately.