Bush Doctors by Annabelle Brayley
Author:Annabelle Brayley , Date: September 17, 2020 ,Views: 19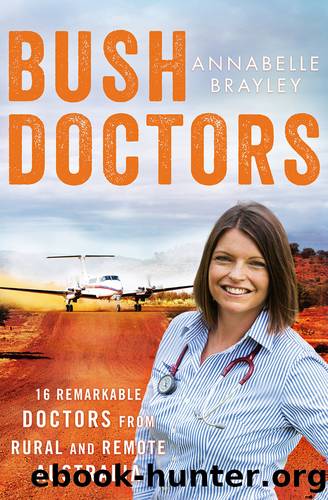 Author:Annabelle Brayley
Language: eng
Format: epub
Tags: Non-Fiction
Publisher: Penguin Random House Australia



Kate Kloza grew up in inner suburban Brisbane, undertook her education at St Rita's school at Clayfield and spent her holidays at the beach. A city girl through and through, there was nothing even mildly rural about her upbringing.
She doesn't know why she wanted to be a doctor, only that she never considered any other career path. In Grade 8 or 9 her class participated in an event to raise money for the Hamlin Fistula Ethiopia organisation, but it was reading Dr Catherine Hamlin's book The Hospital by the River that really sparked the burn under her plan to do medicine.
Unfortunately, by the time she completed her secondary studies with an OP (tertiary entrance rank) of 2, the University of Queensland had changed their protocols for medicine, making it a postgraduate degree rather than undergraduate. With no time to waste, Kate searched around Australia for undergraduate courses and applied successfully to attend the University of Adelaide medical school. She moved to South Australia to begin just after she turned eighteen.
After graduating and then completing her first-year residency at Royal Adelaide Hospital, Kate commenced work as a resident medical officer while trying to decide which career pathway she wanted to take in medicine. In the three years she worked as an RMO, she found she best liked the challenge and pace of emergency medicine and she enjoyed surgery, learning to do several basic procedures like appendectomies. However, she also discovered during that time that she didn't really suit hospital-based practice. Given her urban background, Kate was a little surprised to realise that something about the crowd scene no longer worked for her and, remembering Catherine Hamlin, she began to reconsider her options.
Hitting the internet, she started googling rural and remote practice, thinking she'd suss out what skills she needed to develop to take her overseas to some remote location that was crying out for doctors. While she was trying to decide if she could actually work in medicine without all the support networks that underpin urban practice, she realised there were remote places in Australia literally begging for doctors.
Then, searching for specific rural and remote jobs, she stumbled upon the Australian Antarctic Division (AAD) website. Although it was contrary to her vision of third-world opportunities, everything about Antarctica appealed to her. The pictures of the stations, the snow, the ice and the people stoked her sense of adventure and the idea of working as a solo doctor so far from all she knew fired her imagination.
Kate threw her hat in and went back to work in the emergency department. She wasn't sure she'd get an interview much less a job first time round, but hoped the AAD might explain the shortcomings of her application and alert her to the additional skills and knowledge she needed to accumulate to be successful down the track.
Two months later, the chief medical officer of the AAD Polar Medicine Unit (PMU), Dr Jeff Ayton, rang Kate to ask if she was still interested and invited her down to AAD headquarters at Kingston in Tasmania for an interview.
Download


Copyright Disclaimer:
This site does not store any files on its server. We only index and link to content provided by other sites. Please contact the content providers to delete copyright contents if any and email us, we'll remove relevant links or contents immediately.