Brown, S ( 2010 ) Tough Customer by Sandra Brown
Author:Sandra Brown , Date: November 22, 2020 ,Views: 17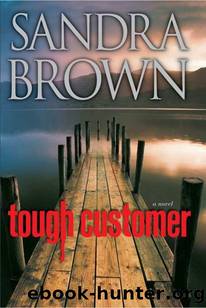 Author:Sandra Brown
Language: eng
Format: mobi
Tags: Suspense, Fiction
ISBN: 9781439197219
Publisher: Simon & Schuster, Incorporated
Published: 2010-09-15T08:52:36+00:00



"Hey, it's Andy, right?"
Dodge, who had exchanged names with the young deputy the night before, strolled into the sheriff's department and over to the desk where Andy was seated. Fortune was with him. Andy was the only one there, and since he'd seen Dodge in Ski's company the night before, he didn't question Dodge's walking in like he owned the place.
Dodge set a white box on the desk. "What I like about small towns, they always have a doughnut shop where they're made fresh every morning."
"The Donut Hole," Andy said.
"Help yourself."
"Thanks." Eagerly the deputy raised the lid and surveyed the selection.
"Don't thank me," Dodge said. "Wasn't my idea. Ski sent me to pick up that evidence on Starks he got last night. Since you're stuck here while everybody else is out, he thought you deserved a treat."
Andy, frowning, licked strawberry frosting off his fingers. "I just talked to Ski. He didn't say anything--"
"How old's that coffee?"
Andy glanced over at the stained coffeemaker sitting on a table against the far wall. "Uh, an hour or two, I think."
Dodge grinned. "Then it should be just about right." Holding a blueberry cake doughnut in his mouth, he went over to the coffeemaker and filled a foam cup, then added two packets of sugar. Looking over at Andy, who hadn't moved, he asked, "Got that stuff for me?"
Andy looked unsure. "Ski's on his way out to the motel to question the owner again."
"That's right. He wants to confront her with that evidence."
"He ... I'm sorry, Mr. Hanley, but when I talked to Ski ... wasn't but a couple of minutes before you got here ... he--"
"He didn't say anything over the phone about it, did he?"
"No, that's why--"
"Whew, good," Dodge said, pretending to be vastly relieved. "The man's got a lot on his mind. I thought he might've slipped."
"Ski? Slipped?"
"You know, slip of the tongue. Tired as he is--I don't think he's slept since Friday night--he might have forgot that he was holding that evidence in abeyance."
"Abeyance?"
"You know, from the media."
"Media?"
"The radio station, son. Where've you been? Ski's got the local station broadcasting bulletins about Oren Starks every ten minutes or so."
"I know that, but--"
"Well, the media can be useful to us, no question. Puts Joe Q. Public on the alert. But we don't want the evidence we've got on Starks broadcast to every yahoo in East Texas, do we?"
"No, sir, but--"
"And Starks is listening to the radio, too. You can bet on it, son. Ski doesn't want him to know the goods we got last night."
The young man's eyes brightened. "So when he's caught, we can use those photos of Ms. Malone to trip him up."
Dodge's stomach dropped. It took every deception skill he possessed to look happy as he slapped the young deputy on the shoulder and said heartily, "There you go." He stuffed the remainder of the doughnut into his mouth and checked his wristwatch. "Ski put me on a deadline."
Andy got up and disappeared into a cubbyhole of an office, emerging a few seconds later with a Ziploc bag with a manila folder inside.
Download


Copyright Disclaimer:
This site does not store any files on its server. We only index and link to content provided by other sites. Please contact the content providers to delete copyright contents if any and email us, we'll remove relevant links or contents immediately.