Brahma's Dream by Shree Ghatage
Author:Shree Ghatage [Ghatage, Shree] , Date: October 29, 2022 ,Views: 185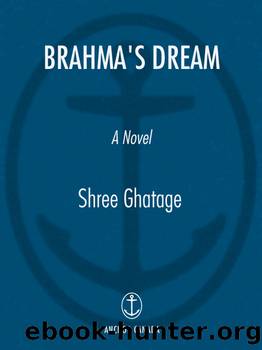 Author:Shree Ghatage [Ghatage, Shree]
Language: eng
Format: epub
ISBN: 978-0-385-67255-9
Publisher: Doubleday Canada
Published: 2004-10-14T16:00:00+00:00



Mohini was dozing in the front verandah when a tanga carrying Raghunathrao, Hema's father, pulled up in front of Koleshwar Nivas the following week. Everyone, including Kamala, had gone to the seafront. Mohini stood up and waited for Raghunathrao to come to her. The driver of the horse carriage followed him, carrying a holdall and a leather suitcase that he deposited by the shoe stand. Raghunathrao paid him, and only then did he look at Mohini.
"How is school?" he asked her, when she went forward and did namaskar.
"I don't go to school any more."
"Do you not?" he said. "What happened to your hand?"
"I broke it."
He peered into the house.
"They've all gone to see the sunset from Dadar Seaface," she said.
Balu came out. Mohini told him to make Raghunathrao a cup of tea and to get him something to eat.
Balu nodded, carrying in Raghunathrao's luggage.
Mohini glanced down Mill Road, wishing everyone was back, because she always felt awkward and tongue-tied in his presence. He had a forbidding expression, and his chin tilted up in such a way that he had to look down his nose when addressing anyone shorter than himself. She watched silently as he took off his sandals and lowered himself into Vishnupant's armchair; he opened the footrests so he could stretch out his feet. Within seconds he was fast asleep.
The tea had long turned cold by the time Hema ran up the path and Raghunathrao opened his eyes. Hema told him that he had come much too early to fetch them and that she wished she could stay in Bombay forever. There was a brief look of surprise and disappointment on Nandini's face. Raghunathrao got to his feet, cleared his throat, spat over the railing into the bushes, and asked his wife where her father was. "He's gone to the gymkhana. We were not expecting you until later in the week …"
Raghunathrao turned to Kamala and nodded. "Your daughter looked after me very well," he said. "Unfortunately, I fell asleep and could not drink the tea she told your boy to bring me." He reached down, tested the temperature of the tea with his little finger, and before Kamala could say she would ask Balu to make another cup, he drained it in one gulp. He picked up a ladoo and, biting into it, went inside. They all followed him into the back verandah. He walked to the far end and stretched his arms over his head several times, bringing them back to the side of his body after each stretch. Then he collapsed his knees and sank into his hips and did that a few times. Before he could begin another set of exercises, Nandini coughed to get his attention. He turned around and she handed him a towel and some fresh clothes that she had removed from his suitcase. He took them from her and entered the end room in which Balu was making up his bed.
When Mohini and Hema saw the bathroom light switched on
Download


Copyright Disclaimer:
This site does not store any files on its server. We only index and link to content provided by other sites. Please contact the content providers to delete copyright contents if any and email us, we'll remove relevant links or contents immediately.