Blister (Detective Morgan Foster Vigilante Justice Thriller Book 2) by KJ Kalis
Author:KJ Kalis [Kalis, KJ] , Date: January 14, 2022 ,Views: 160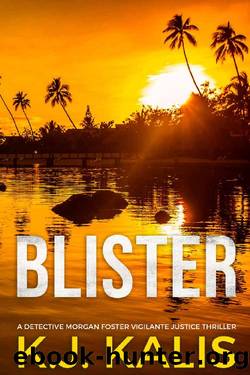 Author:KJ Kalis [Kalis, KJ]
Language: eng
Format: epub
Publisher: BDM, LLC
Published: 2022-01-09T16:00:00+00:00



14
"Meet me at Sylvia's."
Morgan sent the text without any other explanation. Amber would be able to tell by her tone that it was an emergency.
Morgan dropped her cell phone into the cup holder in the truck, tossing the bag of Katrina's clothes on the passenger seat as she started the engine. A steady stream of cars was rolling into the hospital, people coming to visit loved ones or people who had procedures scheduled for that day. Morgan wove her way through traffic, fighting off the urge to lay on her horn. She hated hospitals. Everything in her wanted to leave St. Anne's and never come back. Somehow, she wasn't sure that was going to be in the cards.
Driving to the Medical Examiner's Office, Morgan left the windows down, letting the tropical morning air circulate through the truck, feeling the gathering humidity collecting on her skin. She hoped it would get the smell of the hospital off of her. Taking a deep breath in, she glanced down at her phone. No answer from Amber. Hopefully, she would get the message and meet her there. If not, it didn't matter. She'd talk to Sylvia on her own.
The drive between St. Anne's Medical Center and the County Medical Examiner's Office took about twenty-five minutes. It was time that Morgan was grateful for. Taking a few sips of her water as she drove, she stared ahead, trying hard not to think about anything she'd seen or experienced in the last couple of days. It was one thing to work a case as a detective, she realized. She'd always had the benefit of showing up after things happened. There was no emotionality to it, except for the victim's feelings, which had to be managed, but she'd never gotten caught up in such a raw case before, that was until it became personal with the Sons of Goliath. She swallowed, thinking. She remembered how she'd been able to go to a murder scene, have it processed, and then go home and make dinner for her family like nothing had happened. Where she'd lost that ability to compartmentalize, she wasn't sure. Or maybe she did know. She'd lost it inside that trailer she'd been locked in.
Now everything seemed personal.
About two miles from the Medical Examiner's Office, Morgan passed an elementary school. Class must have just been getting ready to start. There was a stream of yellow buses parked in front of the school, kids flooding into the building, adults holding the doors open and waving the kids inside, their blue and pink and green backpacks dotting the sidewalks like confetti. As she stopped for a red light, she could hear the noise of their chatter and giggles, the occasional sound of a parent or teacher calling to one of the kids. Her heart ached. She longed for that kind of simplicity.
Pulling into the parking lot at Sylvia's office, Morgan looked around for a car that could be Amber's. Her personal car wasn't there, not that Morgan expected her to drive one.
Download


Copyright Disclaimer:
This site does not store any files on its server. We only index and link to content provided by other sites. Please contact the content providers to delete copyright contents if any and email us, we'll remove relevant links or contents immediately.