Blindman's Bluff by Blindmans Bluff
Author:Blindmans Bluff [Bluff, Blindmans] , Date: August 1, 2020 ,Views: 315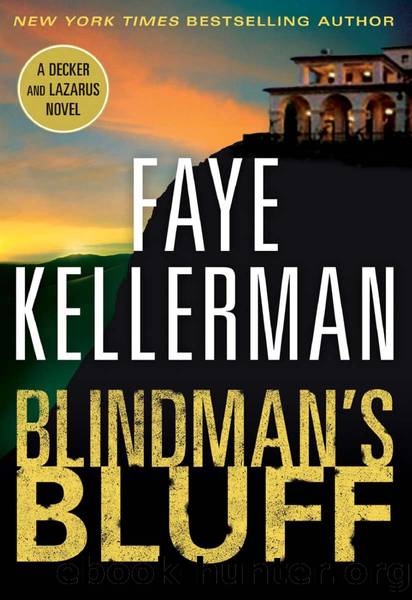 Author:Blindmans Bluff [Bluff, Blindmans]
Format: epub
Published: 2010-02-16T19:38:35+00:00



"HARRIMAN JUST LEFT." It was Wanda Bontemps on the phone.
"What did he want?" Decker tried to keep the acid out of his voice.
"We asked him to come in, Loo."
Hunched over the steering wheel, it took a couple of beats before Decker processed the words. He had been so focused on Rina's safety that he forgot that Harriman was actually serving a purpose.
"Yeah…right. The phony interview with Oscar Vitalez. How'd that go?"
"Harriman said it wasn't him. We tried to convince him that he was the guy based on Rina's ID, but he didn't take the bait. He said emphatically that it wasn't the guy. So I've got a couple more guys lined up for him to listen to. We've set up another meeting at five this afternoon."
"Good job, Wanda, thank you. Alejandro Brand—the guy who Rina did ID—doesn't live at his listed address but he's still in the neighborhood. I'm going to hunt around. Any luck locating Joe Pine?"
"I haven't heard from Messing. Want me to give him a call?"
"Yeah, do that. I'm getting another call, Wanda, could you hold?"
"Just take it. Nothing more to say. I'll talk to you later."
Decker loved the efficiency in Wanda. The call was from Rina.
"I've got some time this afternoon if you want me to look through more mug books."
Decker knew there was no stopping her. "Sure. How about…three?"
"Great. Do you need anything?"
"No, darlin', I'm fine. I'm in Pacoima now. I'll talk to you later."
"What are you doing in Pacoima?"
"Looking for Alejandro Brand."
"When you find him, let me know."
"Why would I do that?"
"So I can ID him in person."
"Your ID doesn't mean anything because you didn't hear him talk about the Kaffey murders. Harriman needs to ID him, not you."
"Why not both?"
"Because he overheard something suspicious. You didn't."
"I can tell you if he's the guy that Harriman was eavesdropping on."
"I'm sure Harriman eavesdrops on many people. That's what got him into trouble in the first place. Look in the mug books, but nothing more. Please be considerate of your weary husband's feelings and do not get involved any deeper, okay?"
"Stop worrying, Peter. I'm just trying to help."
The road to hell, et cetera, et cetera. "I know, darlin'. I'll see you at three."
"We've got a date. I'm bringing a cake for the squad room. If you behave yourself, you can have a slice."
"And if I don't?"
"Then you don't get a piece and can use it to jump-start your diet for the seventy millionth time. Either way, it's a win-win situation."
Download


Copyright Disclaimer:
This site does not store any files on its server. We only index and link to content provided by other sites. Please contact the content providers to delete copyright contents if any and email us, we'll remove relevant links or contents immediately.