Bessie Smith by Jackie Kay
Author:Jackie Kay [Jackie Kay] , Date: February 23, 2021 ,Views: 31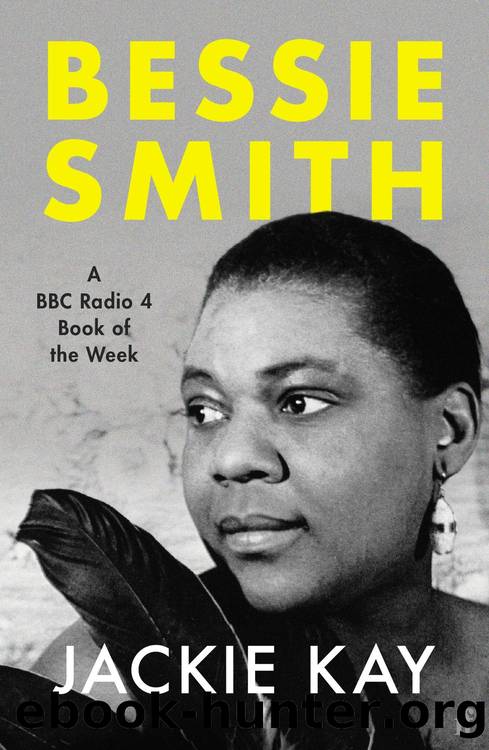 Author:Jackie Kay [Jackie Kay]
Language: eng
Format: epub
ISBN: 9780571362936
Publisher: Faber & Faber
Published: 2021-02-14T22:00:00+00:00



I dream of a place between your breasts
to build my house like a haven
where I plant crops
in your body
an endless harvest
where the commonest rock
is moonstone and ebony opal
giving milk to all of my hungers
and your night comes down upon me
like a nurturing rain.
Audre Lorde, 'Woman'
RUBY ON THE ROAD
My best friend, Gillian Innes, loved Bessie Smith. We spent many hours in Gillian's bedroom, imitating Bessie Smith and Pearl Bailey. Various objects served as microphones from hairbrushes to wooden spoons. At the age of twelve, singing Pearl Bailey's 'Tired of the life I lead, / Tired of the blues I breed, / I'm tired, mighty tired of you,' or Bessie Smith's 'You've got to give me some, please give me some,' was a way of expressing our wild emotions for each other. The one who was singing looked directly at the other, getting completely into the mood of the blues, making her body movements correspond to the words. The one who was watching killed herself laughing. Gillian's box bedroom floor was our centre stage. She had her own old gramophone in the corner. We'd rush to it as soon as the number was over to play it again and swap the singer. The singer would then jump onto the bed and become the whole audience. We fancied each other singing those blues. She could make one eyebrow raise itself way above the other. I was besotted with her and the blues. First love; I was positive Gillian would grow up to be a famous singer. My life at that age was charged with all the intense devotion and loyalty of a schoolgirl crush. I could barely breathe. The air in her box bedroom was thick with secrets. The door firmly shut. Our own private performance. Gillian lent me a book about Bessie when we were thirteen or so. I never found that book again, but I remember reading about Bessie travelling in her Pullman, which I then imagined as a sort of wagon, like one of those wagons on the Oregon trail. I imagined it to have little windows with red curtains bunched to the side. I read in this book that Bessie had sex with women on the road. I could barely contain myself. Who did she have sex with? What were the women's names? She got to sing the blues. She had a beautiful haunting voice. She got to travel in the Deep South. And she got to have sex with chorus girls on the road in her own Pullman. What more could a girl want? It must have been a bumpy ride. I remember the name Ruby. The name Ruby coming up all the time.
Ruby Walker was Jack Gee's niece. Her relationship with her aunt, Bessie Smith, was undoubtedly one of the most crucial in Bessie's life. It was possibly even more significant and complex than Bessie's relationship with Jack himself. As far as we know, Bessie Smith never had sex with Ruby, though their relationship has all the complexity of a sexual one.
Download


Copyright Disclaimer:
This site does not store any files on its server. We only index and link to content provided by other sites. Please contact the content providers to delete copyright contents if any and email us, we'll remove relevant links or contents immediately.