Ben's Wolf Surprise by Bronwyn Heeley
Author:Bronwyn Heeley , Date: June 12, 2021 ,Views: 28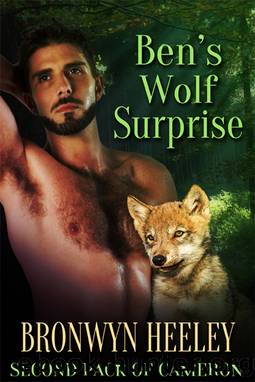 Author:Bronwyn Heeley
Language: eng
Format: mobi, epub
Tags: Gay, Werewolf, GLBT, Male Pregnancy, Paranormal, Erotic Romance, Adult
ISBN: 9781487404505
Publisher: eXtasy Books
Published: 2015-09-01T05:00:00+00:00



Chapter Six
"Shad, you have to move away from the door if you want him to come in," Bruce said with another heavy bang on a different door, the very one Ben had seen as he closed it behind himself before walking off.
He didn't think he'd ever see the door again—now he was glad he was. Happy, nervous.
Bruce had told him he'd fucked a werewolf. He'd mated with one, or at least started to. Ben had laughed, that nervous laugh of his, the one he hated, but it could not be helped.
Ben would have loved to brush the whole thing aside, call their bullshit. But other than Kade, who looked as dumbfounded as he did, the rest of the room held that silent believe us look on their faces.
Then Max, the other massive man there, had started to lift his shirt, telling Ben he'd show him if he wanted.
He didn't.
Hell, he'd shifted his gaze once skin started to show, which was weird—what man would not want to look? He'd just felt as if he shouldn't, that something bad would happen if he knew what the man looked like naked. It was a feeling he'd only ever really felt when he was in a relationship, which kind of made what they were saying the truth.
Ben didn't like it, though. Shouldn't someone ask you that sort of shit first? Shouldn't he have at least been told the guy he was about to fuck turned wolfy—common courtesy or something more like fucking law—like when a dude had AIDS? Fuck, couldn't he have had that shit tattooed to his fucking forehead?
Ben had boiled in his own little world as he was bundled up and taken back to the scene of the crime. His palms broke into a sweat as soon as he stepped foot in the lobby and looked towards the door that led into the nightclub.
Memories had come back, all smooth and soft, speeding up his heart, making his hands sweat.
Ben's feet dragged and he could not seem to turn himself away from the closed door, the room clearly not in use at this time of day. Ben didn't see it—he was in the past, lights flickering, music pumping, the best looking man a table away.
He'd had the best night, and he'd blown it. He'd walked away because... he wasn't sure anymore. Couldn't even understand it himself, especially since just the thought of seeing Shad again made him want to run away, run far, far away. Hell, he'd already be heading that way if it wasn't for Alicia and her stupid fucking smirk that hinted badly of change, and that no matter how far he ran he wasn't getting away from this.
A whine from under the heavy door snapped at Ben's heart. He wasn't completely ready to accept the fact that Shad was a werewolf, even if he knew they existed. You couldn't not know in this day and age, unless you managed to create a brain bleach.
It didn't mean the world wasn't doing its best to forget, that was for sure.
Download


Copyright Disclaimer:
This site does not store any files on its server. We only index and link to content provided by other sites. Please contact the content providers to delete copyright contents if any and email us, we'll remove relevant links or contents immediately.