Baby, I Know You're There by R.H. Proenza
Author:R.H. Proenza , Date: May 4, 2021 ,Views: 9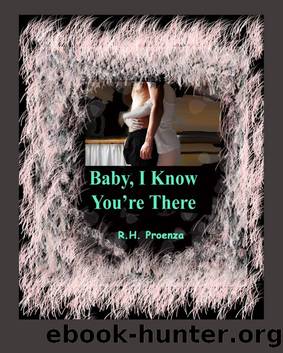 Author:R.H. Proenza
Language: eng
Format: epub
Tags: ghost romance, ghost love story, ghost in love, ghost paranormal romance



****
Dan woke with a start to daylight. He had been dreaming of Callie. Of course. He fell asleep holding on to her picture. He hadn't dreamed about her since they got married. Now it started up again! In the dream she had been talking to him but her voice was too faint and he couldn't understand her.
Last night she was the last thing he was thinking about, NO, it wasn't. Something else had occurred to him. Something that in the light of day was impossible, ludicrous. He didn't believe in ghosts, and that's basically what his toasted brain came up with.
And the photo of Callie on the bed -- surely he just forgot he brought it in from another room. He gently put it inside the nightstand drawer again. The mark on the steamed up bathroom mirror was probably a finger smudge of his and the tiny lines were just his own finger print. He had wiped it off anyway, so it was forgotten. The booze had temporarily messed him up; everything could be easily explained.
He went into the bathroom to look at the mirror to prove there was nothing to it. The blood drained from his face. There was a small heart with a tiny star in its middle drawn with soap by a fingertip. He knew the mirror had been clean from when he swiped the towel over it the night before. He whipped around looking for someone, anyone. He was alone. He approached the little heart slowly shaking his head.
"Cal..." He almost couldn't say the word. "Callie?" It came out as a hoarse whisper. Immediately he felt a sensation on his lips, the unmistakable and familiar contact of HER lips on his! His knees buckled as he crumbled to the floor tears flooding from his eyes. "Callie? How...how is this possible...?"
He felt a feather light brush against his cheek, then, nothing. Something had changed just now. There was emptiness around him, a void that wasn't there minutes before. Somehow, she had just been here, but now she was gone. He stayed sitting on the bathroom floor trying to wrap his mind around what had just happened. He lingered for the better part of an hour on the floor, afraid to move, to see if it would happen again.
He replayed it all in his head. He was not drunk, nor insane. At least he didn't think so. He knew what he saw -- the little heart was still on the mirror! He put his finger to his lips -- and what he felt. Callie had BEEN here! Which meant that she was a...what, a... ghost?
He held his head in both hands lest it explode. He had to accept it -- when she died she had not 'crossed over' as they say. He roamed the house uselessly looking for her until he realized he was not going to find her. Would she come back? Please come back my sweet angel…
Download


Copyright Disclaimer:
This site does not store any files on its server. We only index and link to content provided by other sites. Please contact the content providers to delete copyright contents if any and email us, we'll remove relevant links or contents immediately.