Artist Free Zone by Annette Mori
Author:Annette Mori [Mori, Annette] , Date: January 14, 2021 ,Views: 22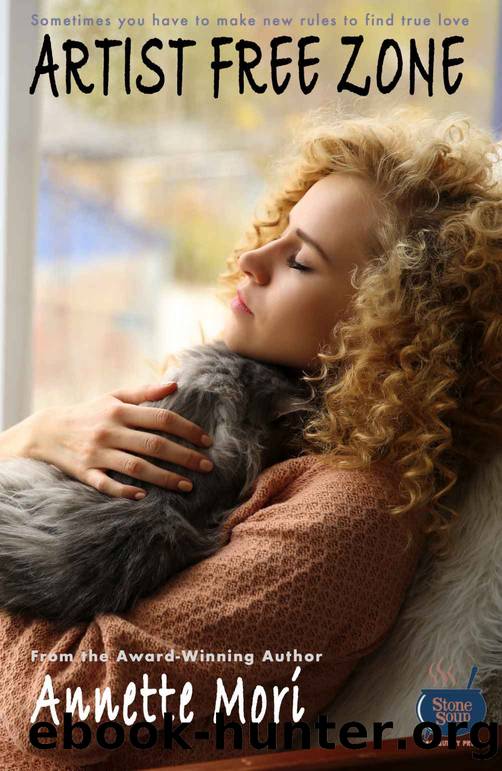 Author:Annette Mori [Mori, Annette]
Language: eng
Format: epub
Tags: romance
ISBN: 9781950167005
Publisher: Stone Soup Community Press, Inc. 501(c)3
Published: 2019-02-18T00:00:00+00:00



Chapter Twenty
Melissa
I WAITED UNTIL Christine crawled under the covers and then I joined her. We were facing one another and, like two magnets, came together for a goodnight kiss. That was all I had planned on doing.
The touches started out innocently enough. Christine moved her hand under my T-shirt and began stroking my back. It was damn near impossible to control my reaction to her touch. When her hand brushed against the side of my breast, I decided the hell with it. I was a forty-five-year-old woman, and if I wanted to have sex, I would throw caution to the wind.
When her hand moved to my outer thigh, grazing the edge of my buttocks, I wasn't able to mask my reaction. I was sure Christine knew exactly what she was doing, and I wanted more.
I lifted my T-shirt over my head and tossed it to the side. She followed suit. We still had our shorts to create one last barrier, in case we decided to stop and wait.
Her fingertips moved along my ribcage. "How much weight have you lost?" she asked the concern evident in her voice.
"About ten to fifteen pounds. I know I need to add a few pounds. I probably look like a scarecrow."
"No, you're beautiful, but you are a bit underweight. Eastern medicine always recommends you carry about ten extra pounds so that you have reserves for when you get sick. It seems like you could easily gain twenty." She continued to stroke my sides and back.
When her leg slipped between mine, we started to move together, and I was definitely becoming more and more aroused by her body against my own.
My shorts were loose, which made it easy for her to slip her hand inside and tentatively touch the outer edges of my lips. I was already starting to drip.
A surge went through my body when I felt the light brush against my clit. I had the overwhelming need to touch her back. I started with a light caress to her large milky white breasts. She had glorious breasts. I was usually attracted to women with a bit of meat on their bones, and Christine was perfect. She wasn't overweight, but she wasn't like me, skin and bones.
As she continued to tease me, I moved my mouth to her nipple and sucked. Christine moaned, and I discovered her breasts were ultrasensitive.
Our bodies shifted, and we found a position that enabled both of us to dip into each other's wet center. She moved her thumb up and down over my clit as a single finger slid inside. I was glad she hadn't attempted to enter me with more than one finger because I was very small and generally didn't enjoy too much inside.
Even though I had a desperate craving to taste her, I was lost in the feelings as our awakening grew. We were in perfect sync. The symphony of moans blended with the jazz music she'd put on and was playing lightly in the background.
I was a relatively vocal lover and didn't mind when my partner expressed her delight as well.
Download


Copyright Disclaimer:
This site does not store any files on its server. We only index and link to content provided by other sites. Please contact the content providers to delete copyright contents if any and email us, we'll remove relevant links or contents immediately.