Alt-Right: From 4chan to the White House by Mike Wendling
Author:Mike Wendling [Wendling, Mike] , Date: August 2, 2020 ,Views: 33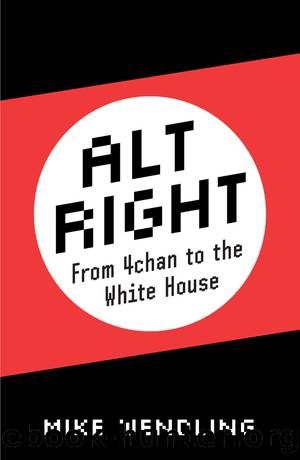 Author:Mike Wendling [Wendling, Mike]
Language: eng
Format: azw3
Publisher: Pluto Press
Published: 2018-04-19T16:00:00+00:00



9
Conspiracy Theorists
Edgar Maddison Welch wasn't a well-educated hipster. He was 28 years old and lived in a small town in the middle of North Carolina. His Facebook profile photo showed him gurning while riding a roller coaster, and police records showed he had a number of arrests, for drug possession and drink driving.1 He'd been listed in the credits of a number of obscure films—he was production assistant in a low-budget horror flick called The Mill, set in an abandoned textile factory.2 His Facebook profile indicated he was a fan of typical dude-bro pop culture—video games, Fight Club, the TV series Breaking Bad—sprinkled with interests in both Christianity and conspiracy theories. He had two children. He could handle a gun.
On a Sunday morning in early December 2016—about a month after the US election—Welch, dressed in a blue T-shirt, blue jeans and work boots, left his children in the care of his girlfriend, got in his silver Toyota Prius, and began to drive north towards Washington, D.C. Along the way he recorded a video on his phone, telling family members that he loved them. He said he hoped he had "showed it" and that he would be able to "tell [them] again." "And if not," he said on the video, "don't ever forget it."3
If traffic's not bad, the drive from Salisbury to Washington D.C. takes about six hours. Welch arrived in the city mid-afternoon, and parked his car near Comet Ping Pong, a pizza restaurant. He took an AR-15 assault rifle and a .38 calibre handgun out of his car and entered the restaurant. One witness said he looked like a security guard, and although diners began to panic, he didn't trouble them but headed quickly towards the back of the building.4
Once inside, Welch began "investigating." He was looking for hidden rooms or tunnels. At one point, he later told police, he encountered a locked door. When he couldn't open it with a knife, he fired several shots at the lock. It still didn't open.5 An employee, who'd been out back fetching pizza dough from a freezer, heard the shots and went inside, only to see the gunman and hear panicked customers fleeing. Welch turned in the direction of the employee, who high-tailed it back outside and ran to alert police.
The cops were familiar with the place—they had recently responded to other incidents at Comet Ping Pong, although none as serious as this one. Within half an hour they had the building surrounded. Welch left his guns in the restaurant, which had completely emptied out, and gave himself up. An officer handcuffed him, and asked him why he'd fired a weapon inside a crowded family friendly pizza joint.6 He said he'd read online that Comet Ping Pong was harboring child sex slaves, and he wanted to see for himself whether they were there, and perhaps rescue them. He was taken to jail.7
* * *
The incident at Comet Ping Pong was the climax of a conspiracy theory that had been planted, fed and watered by the alt-right.
Download


Copyright Disclaimer:
This site does not store any files on its server. We only index and link to content provided by other sites. Please contact the content providers to delete copyright contents if any and email us, we'll remove relevant links or contents immediately.