Age of Shojo by Dollase Hiromi Tsuchiya;
Author:Dollase, Hiromi Tsuchiya; , Date: November 25, 2021 ,Views: 50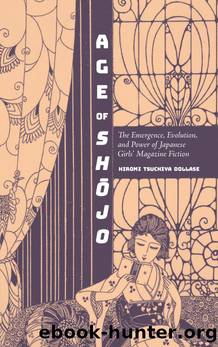 Author:Dollase, Hiromi Tsuchiya;
Language: eng
Format: epub
Publisher: State University of New York Press
Published: 2019-11-14T16:00:00+00:00



CHAPTER SEVEN
Himuro Saeko's Shōjo Heroines from Heian to Shōwa
The physical and fiscal rehabilitation of Japan over the following decades proved very successful. The nation experienced a period of incredible financial growth in the 1960s and 1970s. By the second half of the 1980s, "Japan was involved in the biggest financial mania of this century."1 It was a period known as the "bubble economy,"2 which was characterized by extravagance and conspicuous consumption. This period was also called "the Age of Women." The Equal Employment Opportunity Law, which was passed in 1985, "inspired thousands of well-educated women in their twenties to attempt previously undreamed-of careers."3 Working women were also powerful consumers, and their new prominence in society attracted media attention. The October 1986 issue of Asahi Journal includes an interview with girls' fiction writer Himuro Saeko (1957–2008) by journalist Chikushi Tetsuya. The title of the interview is "Genki jirushi no onnatachi" (Women Marked by Energy).4 The fact that Himuro Saeko was chosen to represent women's culture indicates an acknowledgment of the cultural and commercial influence of girls' fiction.
This chapter will discuss girls' fiction in the context of women's culture of the 1980s. Intriguingly, Himuro Saeko provided commentary on the contemporary male-dominated culture's focus on business and money in works that take place in the ancient past. Za chenji (The Change, 1983) is a retelling of the literary classic Torikaebaya monogatari (The Changelings), which was written in the late Heian period by an unknown author. Both the original and Himuro's version are about a girl who has grown up as a boy, bravely serving as a government official in the imperial court. Himuro's version resonated with women who had started entering the workforce, traditionally a male sphere, in the 1980s. Nante suteki ni japanesuku (How Splendid Japanesque; intermittently 1984–1991)5 is a romantic comedy centering on a married heroine, Ruri. This work is loosely connected to eleventh-century classic Genji monogatari (The Tale of Genji)6—the life story of the fabulous prince Genji, chronicling his love affairs and the tragedies that befall him after he secretly consummates a romance with his stepmother. Himuro's tomboyish heroine challenges and subverts the world of Genji and instead embodies a new idea of love and marriage, as well as a new set of women's values. Perhaps Himuro chose the conservative Heian period (794–1185) as the stage of these stories because it was a time when gender roles were clearly demarcated and women were utilized by men as their means of success and social promotion. Her heroines' outrageous modern behavior, defying cultural expectations, captivated readers of the 1980s.
Himuro is an important figure who created "a new direction in modern Japanese girls' literature."7 She widened the definition of girls' fiction by portraying young adults and even married women as heroines. More importantly, her use of first-person narration and colloquial language drew her audience into the world of her stories, and the tone of sarcastic humor she deployed became an important trait of modern girls' fiction. After an overview of the transformation of
Download


Copyright Disclaimer:
This site does not store any files on its server. We only index and link to content provided by other sites. Please contact the content providers to delete copyright contents if any and email us, we'll remove relevant links or contents immediately.