Across the Prairie in a Motor Caravan by Reformed Presbytery
Author:Reformed Presbytery , Date: March 26, 2020 ,Views: 47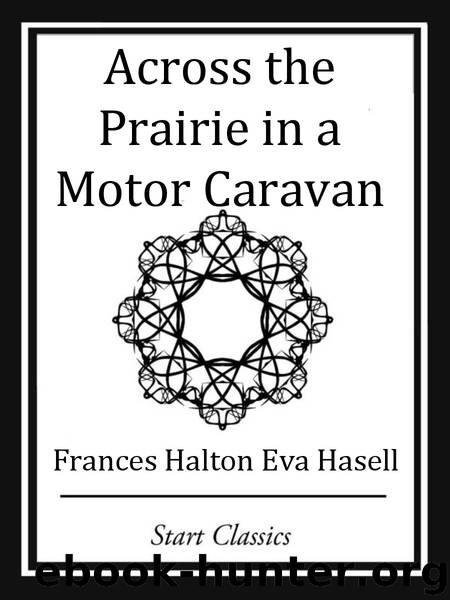 Author:Reformed Presbytery
Language: eng
Format: epub
Publisher: Start Classics
Published: 2013-10-29T16:00:00+00:00



CHAPTER XII
MISSIONS AND MUD HOLES
When we arrived at Rosetown the vicar and his wife were out, as they did not know what time to expect us; but we found the vicarage door unlocked, as is the hospitable local custom, so we went in and read the letters from home which we knew were awaiting us there. Mr. and Mrs. M. soon arrived, and gave us a very warm welcome. They insisted on our sleeping in the house instead of in the van, and having our meals with them. We said that in that case they must let us help with the chores. Mrs. M. had a tiny baby and no domestic help. Here, as elsewhere, our host and hostess were delighted to meet anyone fresh from England. Mr. M. had worked on the Railway Mission, and was now in charge of this district. A Canadian "parish" is often 2,000 or 3,000 square miles in extent. Mr. M. had a rural deanery of 6,000 square miles, and as many of his clergy were in deacon's orders, he had to perform all priestly duties for them. He used a Ford car in the summer, and in the winter took the tyres off a motor bicycle and fixed it up to run on the rail of the track. The prairie being so flat, he could see the trains in time to get out of the way.
When talking to men like this we realised that our summer adventures were as nothing compared with what they experienced in the winter, with the thermometer 50 degrees below zero and blinding blizzards in which it was impossible to find one's way. This life of hardship and self-sacrifice won the respect of their parishioners and developed their own manhood. The farmers looked upon them as personal friends, fellow-men, instead of the remote being a clergyman is sometimes assumed to be. They are all-round men of affairs, too, as Winifred put it: "Out here a parson has to know about seeds and weather and dollars, but he is respected also for his office, and valued very much for what he brings to the people."
For the most part the men out here are the pick of the junior clergy from Oxford and Cambridge, men who have sacrificed much in leaving England. The clergy depend upon voluntary contributions, there being no endowments, of course. It is reckoned that in the diocese of Qu'Appelle the average contribution for each man, woman, and child is 15s. per head. They use the envelope system, so that if prevented from attending church the money is set aside just the same. Besides this, the farmers give generously in kind. But, as a clergyman's wife remarked to me, butter and eggs, though very welcome, do not supply clothes for the children. The drawback to the voluntary system is that the clergyman's income is as uncertain as that of his parishioners; for when the harvest fails there is no money for anyone. The Railway Mission clergy received monetary
Download


Copyright Disclaimer:
This site does not store any files on its server. We only index and link to content provided by other sites. Please contact the content providers to delete copyright contents if any and email us, we'll remove relevant links or contents immediately.