A Most Helpful Text by Michael Angel & J. D. Cutler
Author:Michael Angel & J. D. Cutler [Angel, Michael & Cutler, J. D.] , Date: July 22, 2021 ,Views: 29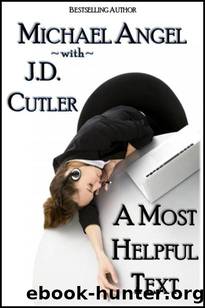 Author:Michael Angel & J. D. Cutler [Angel, Michael & Cutler, J. D.]
Language: eng
Format: epub
Amazon: B005IDGQC0
Publisher: Banty Hen Publishing
Published: 2011-08-20T04:00:00+00:00



Chapter Four
A ghost lay in wait for me back at the station.
I'd been doing plainclothes work out on the street, where the late summer sun beat down like a sledgehammer. I hit the showers and did my best to steam off the sticky layer of sweat. When I came out, I tried to rake my mop of black hair into place. Not that it did much to improve my looks. Even Beth had once charitably described me as a cross between Matthew Broderick and Frankenstein.
I wrapped a towel around my gut and opened my locker. Right then, the ghost fell out from its hiding spot.
"Ooooo–weeee–oooooo!" The ghost jiggled at the end of its clear monofilament line. Its black plastic eyes flashed with colorful Halloween cheer. I snatched the toy up and nudged the 'off' switch on its base.
"Clever," I said, holding back my temper.
I looked around the locker room at the other guys. Several gave me an uneasy laugh back. But a couple of them didn't meet my eyes.
I'd recounted at the formal inquiry what happened to me and Dorian at the TomKat. Depending on what people chose to believe, I was hopped up on adrenaline, wrung out from seeing Dorian buy the farm, or flat–out crazy.
I kept my mouth shut outside the station. We were going with the story that carbon monoxide fumes from a faulty heating unit had overcome everyone at the TomKat. Never mind that nobody in Los Angeles would be running a heater in the middle of August.
The people I'd seen downstairs started coming to about an hour after I'd been sent to the hospital. If they'd been exposed to some kind of poison, it didn't take. No one had reported so much as a headache.
I just finished changing when the desk sergeant poked his head in the door. "Hey, Ridder," he called, "The Captain wants to see you in his office, ASAP."
I stood and ran my fingers through my hair with a sigh. I straightened out my shirt with a brief tug and went to see Birch.
* * *
The door to the Captain's office stood ajar. I could see the broad expanse of his back as he fumbled with something behind and under his desk. I rapped on the doorframe to announce my arrival.
"You needed to see me, sir?"
"Detective Ridder? Come in, close the door," Birch said.
I took the seat in front of his desk as Birch found the jumbo–sized bottle of Maalox he'd been digging for in his desk drawer. He shook out a couple tablets, chewed them to powder, then washed them down with a sip of coffee.
Captain Alan Birch made an unlikely looking commander. He was tall, almost as tall as I was, with a barrel chest and bulging forearms that would've made Popeye envious. Birch had an affinity for cowboy hats, Tabasco sauce, and antacid, in roughly that order. To top it off, he'd risen through the ranks without having to shave off a handlebar mustache that wouldn't have looked out of place on baseball pitcher Rollie Fingers.
Download


Copyright Disclaimer:
This site does not store any files on its server. We only index and link to content provided by other sites. Please contact the content providers to delete copyright contents if any and email us, we'll remove relevant links or contents immediately.