A Crisis Wasted: Barack Obama's Defining Decisions by Reed Hundt
Author:Reed Hundt [Hundt, Reed] , Date: July 22, 2021 ,Views: 104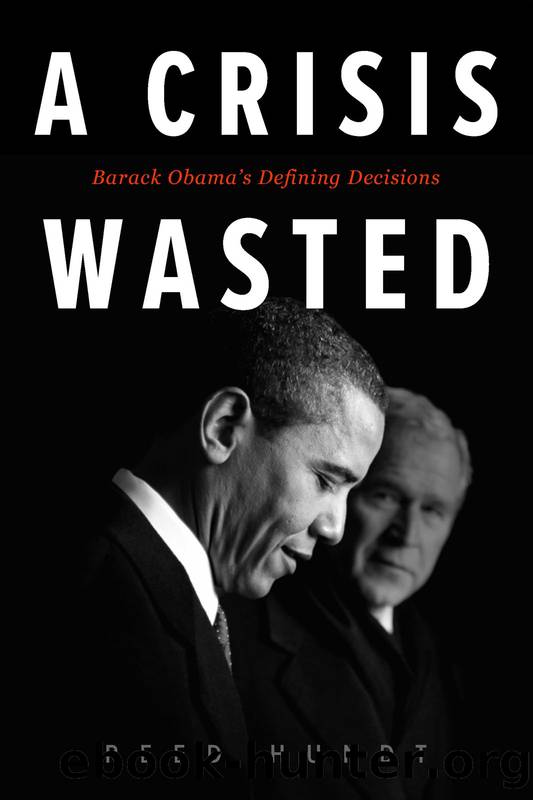 Author:Reed Hundt [Hundt, Reed]
Language: eng
Format: epub
Publisher: RosettaBooks LLC
Published: 2019-07-15T00:00:00+00:00



"Political Malpractice"
Almost a century ago, the Copenhagen interpretation of physics cast terminal doubt on systems of thinking and methods of understanding that depended on locality, causation, and objective reality. Niels Bohr believed that one can only know probabilities. Erwin Schrödinger said observation changes a probability into an outcome—the cat in the box turns out to be alive or dead only when the box is opened.
From before the election through January 2009, the Obama advisers reverted to classical Newtonian paradigms. They assumed American businesses would not react to the global downturn. They believed they understood the situation, when they only could guess about probable conditions. They discounted the impact of the opening of the box—i.e., the observation in the negative January and February BLS reports—on the conditions of the cat, otherwise known as the economy.
Gerry Waldron, then working for Congressman Markey, said, "When Romer and Bernstein made their prediction, at the time I remember thinking, 'Wow, they're being frighteningly precise.' At the time it was like, sure, I'll cast the vote if it's an insurance policy against 8 percent unemployment. That's what we were told with statistical precision. The way people heard it was that it was based on serious econometric analysis. So if I take Step X, I have almost scientific certainty that it will lead to result Y, which is unemployment below 8 percent. Bad but politically bearable."
He noted, "They were off by a hell of a lot. There is a profound difference between 8 percent and 9.2 percent. Being off between 4 percent and 5 percent in an unemployment rate is a big difference but they are both close to full employment. Being off from 8 percent to 9 percent is a profound difference because the baseline is 4 percent or 5 percent. So the difference is more like being 20 to 33 percent wrong."
Waldron added, "Later, but still early in 2009, Ed Markey told me someone had told him we are going to have unemployment at around 9 percent all the way through the next election. I said, if that is true, the Democrats are going to lose the House."15
Pete Rouse, deputy chief of staff in the White House, said, "We had received overly optimistic predictions of what the effect on unemployment would be. Perhaps we should not have predicted what the unemployment rate would have gone down to. But this is what the economists told President Obama."16
Alice Rivlin, funding director of the Congressional Budget Office, former head of OMB, and former vice chair of the Federal Reserve, said, "I've spent my life telling politicians what might happen. If you give them ranges, they don't like it. They want a number. If you give them a range, they pick the midpoint of the number. They need a point forecast, but why their January '09 point forecast was as optimistic as it was is a mystery to me. In that winter things were getting worse at a very rapid rate."17
Robert Reich, former labor secretary, said, "It is not a good idea for government to give the public very specific numbers because they aren't reliable.
Download


Copyright Disclaimer:
This site does not store any files on its server. We only index and link to content provided by other sites. Please contact the content providers to delete copyright contents if any and email us, we'll remove relevant links or contents immediately.