2 Sleight of Paw: A Magical Cats Mystery by Sofie Kelly
Author:Sofie Kelly [Kelly, Sofie] , Date: October 19, 2020 ,Views: 6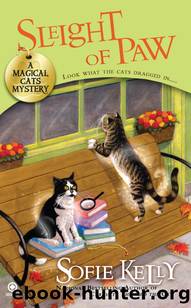 Author:Sofie Kelly [Kelly, Sofie]
Language: eng
Format: epub
Tags: Murder, Women Cat Owners, Mystery & Detective, Murder - Investigation, Women Librarians, Crime, Fiction, Cats, Mystery Fiction, Pets, General, Minnesota
ISBN: 9780451234537
Publisher: Signet
Published: 2011-09-05T23:00:00+00:00



My hands were flat against his chest and out of instinct I clutched his jacket.
"I've got you," he said.
"Kathleen, are you okay?" Maggie asked. She had both of her hands out, as though I were a basketball and Marcus was going to toss me back to her.
"I'm okay."
"Can you stand up?" he asked.
I tipped my chin so I could look at him. "If I could stand up I wouldn't have fallen on you in the first place."
He put his hands on my shoulders and turned me so I was on his left side. "Bend your knees and lean forward," he said. "Just a little bit."
Gingerly I followed his instructions, and my legs stopped quaking as I found my balance.
He looped my left hand around his arm, holding it securely with his other hand. "Better?"
I nodded.
"Okay, now lean on me just a little and push out and back with your outside foot."
We moved forward and I didn't fall down. I tried another push.
"Keep your blade flat on the ice," he said. He turned his head. "I've got her," he said to Maggie, who just raised a hand and smiled as she skated away.
I was skating. I pushed with my outside foot, and feeling brave and fancy, did the same with my inside foot. I was definitely skating. Someone had a weird sense of humor to make this happen because of Marcus.
I waited until we made one circuit around the ice before I spoke. "You're wrong about Ruby," I said.
He didn't try to pretend he didn't know what I was talking about. "You heard."
"I heard. Ruby didn't kill Agatha." I loosened my grip on his arm. "I was there with her, with the body. She was grief-stricken. She wasn't faking that."
"I can't do my job based on feelings," he said. "I look at the facts, at the evidence."
I took a breath and let it out. It was important to make my case without sounding like a crackpot. "That she was distraught is a fact. Ruby isn't a killer. Look at all the work she does with kids. She was inspired to do that by Agatha."
I took my eyes off the ice for a second to search his face. It was unreadable. I continued. "The piece of glass that I gave to you. Can you prove it came from the headlight of Ruby's struck? Can you prove how it ended up in that alley? Or when? Or how it got stuck in my pants? Can you even prove Ruby was driving her truck that night?"
I shook my head. "Never mind. I know you can't tell me any of that," I said.
Maggie was sitting on the bench now. She waved merrily as we went past her.
"No, I can't." His cheeks were red from the cold.
I pictured Agatha in the restaurant, clutching that old brown envelope so fiercely. I hadn't seen it with her body. "Can you at least tell me if you found an old report-card envelope with Agatha's body?"
He frowned, then recovered and shook his head.
Download


Copyright Disclaimer:
This site does not store any files on its server. We only index and link to content provided by other sites. Please contact the content providers to delete copyright contents if any and email us, we'll remove relevant links or contents immediately.