1857: The Sword of Mastaan by Vineet Bajpai
Author:Vineet Bajpai , Date: August 6, 2022 ,Views: 2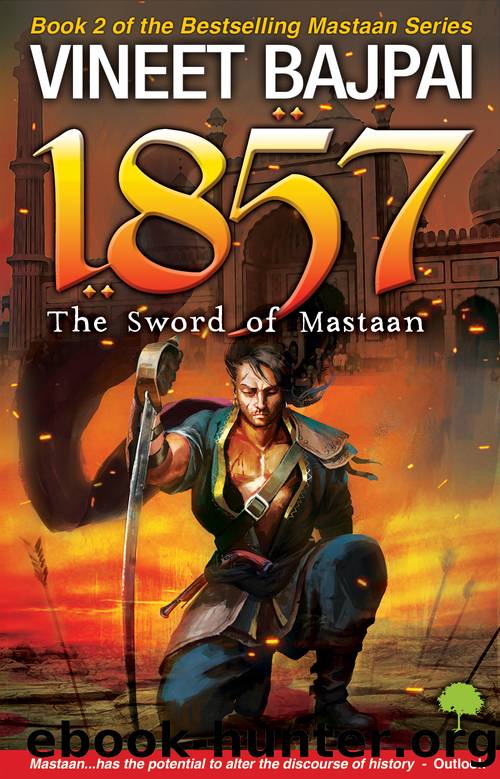 Author:Vineet Bajpai
Language: eng
Format: epub
Publisher: TreeShade Books
Published: 2021-01-25T00:00:00+00:00



The Black Serpent
East India Company Garrison, Karnal, 15th July 1857
In the formal hierarchy of the Company Bahadur, he ranked as a comparatively junior officer.
That little technicality, however, had never held him back. Till recently, he was one of the most powerful young commanders of the mercantile Company dominating all of Hindustan. He had everything going for him. Apart from having earned the proud glint of several gallantry medals for his personal valour in the field of battle, he was also commander of the most decorated armed regiment of Northern India. He and his men had won innumerable battles for the Company Sarkar, that too in the most hostile of terrains. He had enjoyed the allegiance of some of Hindustan's most valiant fighters and was summoned directly by even the British Resident of Delhi, when exercising brute force was the need of the hour. His name rang familiar right up to the Mughal Emperor, and he was on the guest list of every glittering evening hosted by the rich and powerful of Delhi.
He was blessed with a loving home, with the affection of brave cavalry comrades who looked up to him as family, a fine bungalow, a glowing name, much wealth and a battery of obedient orderlies. But most of all, what made him stand out was that he loved Hindustan dearly, and Hindustan loved him back in equal measure. He adored everything Indian.
Quite uncharacteristically though, the one native science that he always mocked at was the ancient practice of Hindu astrology. He considered it hogwash - a big mistake, as it would turn out to be. If only he had heeded the words of the humble saffron-clad jyotishi who often came clanking at the iron gates of his grand bungalow. The impecunious Hindu soothsayer had wished simply to forewarn this widely admired Englishman about the impending catastrophe. Had this able commander listened to the jyotishi's predictions based on complex planetary positions, he might have been cautioned well in advance about all that destiny had in store for him. Maybe he could have acted in time. Maybe he could have partially altered some dimensions of a horrible fate, not just for himself but for the entire populace of Delhi.
Friend of the prosperous and enemy of the destitute, just like prayer, its twin, there is something strangely ironical about spiritual astrology. Those who seek hard to find benevolence from it, end up with nothing but penury, disease and shattered dreams. On the other hand, those who ignore it, drunk with power and wealth, seem to have it as their servant.
But not always.
Sometimes, true to its fickle nature, the science of prophecy plays games. And it is these very potent exceptions that transform beggars into emperors, harlots into queens and monarchs into penniless fugitives - all in a matter of hours. It is in the aftermath of these twists and turns of fortunes that astrology laughs back at those who had once laughed at it.
His fortunes had plummeted swiftly. He had lost everything and more in just one morning.
Download


Copyright Disclaimer:
This site does not store any files on its server. We only index and link to content provided by other sites. Please contact the content providers to delete copyright contents if any and email us, we'll remove relevant links or contents immediately.