004 - Constable Across the Moors by Nicholas Rhea
Author:Nicholas Rhea [Nicholas Rhea] , Date: October 18, 2020 ,Views: 13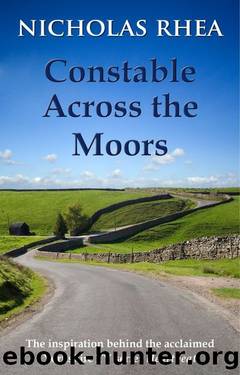 Author:Nicholas Rhea [Nicholas Rhea]
Language: eng
Format: epub
ISBN: 9780719805103
Publisher: Robert Hale
Published: 2012-05-20T14:00:00+00:00



6
"It is a silly game where nobody wins."
Thomas Fuller 1608–1661
It would be remiss of me to suggest that a rural policeman's job is all work and no play. Certainly, in my time as a village constable the position demanded a twenty-four-hour responsibility even though our duty sheets showed that we worked eight-hour shifts. In truth, an eight-hour day was a rarity because people called or rang with problems, and it was understood that we attended to all matters that came our way, even though we were officially off duty or on leave.
Only for special tasks were we instructed to work more than eight hours. The public didn't know this – they simply arrived at the door to complain of being raped or robbed and we had to attend. To win time off in lieu, however, was most difficult. Supervisory checks were made of our daily tally of hours worked and woe betide us if we were shown to have worked less than an eight-hour day. The bits we worked over the eight were lost to us; we donated them to the uncaring public.
Even so, we were allocated days off duty. On the duty sheets, they were shown as RD which means Rest Day, and they moved forward two at a time, being Monday/Tuesday one week, Wednesday/Thursday the next, Friday/Saturday after that, with Sunday/Monday to follow, ad infinitum. As this ritual progressed, it became a great achievement to secure a Saturday/Sunday weekend off duty. On this kind of rota system, Saturday/Sunday weekends came around very infrequently, and were consequently cherished as a gift from the gods, or perhaps from Sergeant Blaketon. In practice, however, something always happened to cause our Saturday/Sunday weekends to be altered. Some incident would occur through which it became necessary to work on those sacred days, and this served only to galvanise us into positive action designed to secure that cherished time off.
Sergeant Blaketon was noted for his ability to find excuses to cancel our weekends off. He had a thing about policemen working when no one else did, such as Sunday evenings, Monday mornings very early, Good Fridays and a host of other occasions which he dredged from his years of compiling police duty sheets. He appeared to think it was good for us. After a while, we learned to tolerate his quirks and we came around to the notion of never expecting a proper weekend off. When one did arrive, it was a bonus rather than a right, and we all know how pleasant it is to receive the occasional bonus.
Through working almost every Saturday/Sunday, however, the discerning constable begins to yearn for a weekend off and contemplates the best ways of getting his weekends free. One of those ways was, and still is, to participate in police sport. Basing my logic on the understanding that if you can't beat 'em, join 'em, I renewed my acquaintanceship with the sporting section of my local constabulary.
Being a Yorkshireman, this meant playing cricket. All Yorkshiremen are supposed
Download


Copyright Disclaimer:
This site does not store any files on its server. We only index and link to content provided by other sites. Please contact the content providers to delete copyright contents if any and email us, we'll remove relevant links or contents immediately.